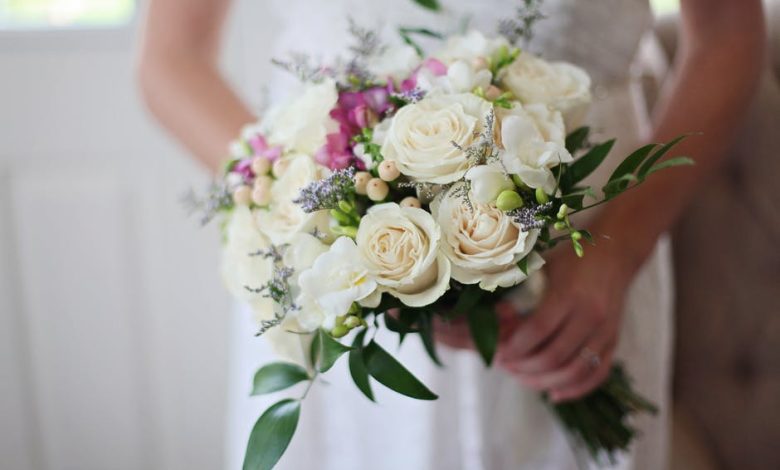 Choosing wedding flowers for the bride's bouquet is quite a daunting task. It is a detail that needs great attention and perfect execution. But with countless options available, it is quite difficult to choose the best option. That's why we are here to help you with your choice. Make sure to consider the given points while choosing your bouquet.
Every bride dream of having the perfect wedding with beautiful flowers adorning her bouquet. Furthermore, wedding bouquets symbolize fertility and luck as per ancient traditions. The bouquet toss spreads the luck to others. This makes it all the more important to choose the perfect flowers for the bouquet. Consider the given tips for choosing wedding flowers.
Follow the below-mentioned steps to make an informed choice on choosing the perfect wedding flowers for a bridal bouquet.
Choose Flowers That Have A Deep Meaning
Your wedding is a once-in-a-lifetime moment. And you most certainly want it to be loaded with emotions and memories. One way to make it special and memorable is by choosing the flowers of the bouquet based on their meaning.
Each bloom signifies a different message and emotion. For instance, if you want your relationship with your husband to be pure and compassionate, go for carnations and tulips. That's because carnations signify purity, whereas tulips signify compassion.
Choose according to the wedding and color scheme
a
It is better if everything was as cohesive as possible, as far as weddings as concerned. And you wouldn't want your bouquet to be an odd one out among other decorations. Therefore, choosing wedding flowers for the bouquet accordingly is recommended.
For example, pastel colors in peachy, lilacs, and pinkish tones would go best with summer weddings. And a bit of greenery would impart a fresh breath of air to it.
Match it with your personality
What can be more original than choosing the bouquet matching your personality? In the end, it is your big day. So choose it as per your taste. Also, keep in mind the availability of fresh flowers and the wedding budget as well. There are trusted online florist who provides fresh flowers wholesale to the public.
Consult a good florist
Ensuring a consultation with a good florist can help you get rid of all the tensions. A good florist will ensure the delivery of quality blooms in time. Hence, you can enjoy the time before your wedding without any frustrations. Not only that, but a good florist would also try to deliver the blooms as per your requirements and taste.
It must match your wedding dress
Choosing wedding flowers for your bouquet in coordination with your wedding dress would be the best choice. These days, wedding bouquets are designed in coordination with the color, shape, and texture of the dresses. For instance, a rose bouquet would go best with a long and traditional dress. Such a combination is a symbol of sophistication and grandeur. On the other hand, a simple bouquet would suit a modern dress.
Accessorize with flowers
Choose your own flowers bouquet such that the dress and bouquet complement each other. For instance, does the dress have crystals or lace on the chest or sleeves? Then you can go with hydrangea or daisies to mirror the same effect. These bouquets will look amazing and will also keep your dress the center of attention.
Go with a theme of your wedding
Is doing things differently your style? Does a black and white wedding theme make your heart flutter? Then just go for it. If not black, you might as well go with deep-colored blooms like maroon. This will impart a dramatic touch to your overall attire.
Full of colors
Are you that cheerful bride who wants a colorful life after the wedding? Then you might find your perfect wedding bouquet with bright tulips in shades like orange, red, and yellow. Also, add a touc犀利士
h of purple to turn it into a vivid theme. You could certainly make a statement with such a bouquet.
Research all the available options
Start observing the wedding bouquets of your friends and acquaintances. Every bouquet is different, made of various flowers like roses, lilies, and orchids. And whatever clicks your heart, just go with it. Sometimes choosing wedding flowers for the bouquet can become even this simple.
Go with the classic
Even after all these considerations, there could be some brides who would still be confused about which flowers to choose. If you are one such bride, you have nothing to worry about! Go with a classic bouquet with white blooms, such as white roses. No one could ever criticize this beautiful and classic style. Also, it will add to the beauty of your big day.
Also Read: How to Preserve your Flowers
Conclusion
Choosing a wedding bouquet is an exciting yet confusing task. That's why we have provided you with the above guide to choosing wedding flowers. Start with the very first tip. And see what works for you.
But make sure that you plan well ahead of time to avoid any inconvenience. This would give you enough time to make changes for your special day. And it would never go wrong this way.