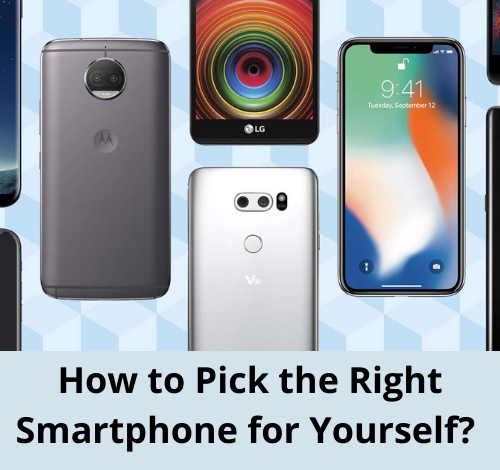 The smartphone industry is quite big so it's not unusual that we get to witness dozens of phones released every year. Brands are constantly working to upgrade and introduce new features with every new launch. When you think about buying a smartphone for yourself. It gets trickier to choose from hundreds of options available in the market. The secret to getting the best smartphone is to know the features that you want and need in your phone.
Do you love taking pictures? Do you love binge-watching your favorite TV show or movies on your phone or if your preferences and requirements are different? Today we will guide you on how to pick the right smartphone for yourself? Read the article till the end to find all the answers to your questions.
Sometimes our old damaged devices carry a lot of memories or even important files. It becomes complicated when you have to say goodbye to your old friend when you get yourself a new phone. If you are stuck in a similar situation Quickmobile can help you with their online mobile repair services which are available at affordable prices.
Important Points to Consider that Can Make Your Decision Easier
Every company designs its phone differently. So the starting point to picking the right device is the purpose you are buying it for and the features that you consider important in your phone.
How big is your smartphone supposed to be?
What exactly are you looking for when it comes down to the phone camera?
Which operating system works best for you?
How long should your battery power last?
How fast and powerful is your smartphone supposed to be?
Would you like a phone with a regular software update?
Since you now know where you should start and what you should look for when you are getting your next device? Let's talk about all the features briefly and why they are important in the first place for you?
Size of Your Smartphone
Some people might say that size of the smartphone is one of the insignificant points and you shouldn't make your decision based on it. Well, let me just say size is an important factor when it comes to picking the right handset for yourself. If you are in a professional field and only need your phone to text or call someone and rarely browse through any social media app. A small size smartphone would be the best one for you.
Because it is easy to carry and you can type on it without the support of your other hand and it will perfectly fit inside your pockets. However, if you love playing games, watching movies and tv shows on your phone, and need to attend online classes and meetings a  large size smartphone screen would be better suited for your requirements. Where today it is easier to find a good massive screen smartphone, the same cannot be said about small size screen smartphones. But you can always look for refurbished and used smartphones available online in portable sizes.
Good Quality Camera
Even if the buyer is not a professional photographer. Still, who doesn't love taking pictures especially when they are out with friends, family, or even exploring different landscapes. While picking out your phone your camera lens plays an important role. With the help of a wide-angle lens, you will click pictures of massive landscapes and a telephoto lens will help you to zoom in. Try to buy a phone that provides you with a good number of megapixels to ensure better quality pictures.
Smartphones Operating System
Apple iPhones arrive with the iOS operating system and it's perfect for those who are looking for a phone with a good security system. But, things can get complicated if you want to exchange files and data with an android phone user. Android phones operating systems arrive with default apps and additional functions. Android one which is an unclad android version provides you with monthly security system updates.
Long-Lasting Battery
A person who is constantly on their phone for multiple reasons. Such as attending calls, video conferences, texting, gaming, and video binge-watch.  Where the first three things don't consume too much power. However, the last two things can easily drain your battery within a couple of hours. So while you are selecting a phone make sure that it has a long-lasting battery and doesn't require too many changes.
Fast Speed
If you don't want to get stuck with a phone which doesn't keep up with the fast-speed apps and video games. Ensure that you are getting the latest version phone (any brand), got enough RAM to download files, and still have some space. Offers you a powerful processor to accommodate fast speed.
4G or 5G Network
Currently, in the market, you can find both 4G and 5G smartphones. Where there is still some time for the 5G network to fully operate all over the world. Still, it would be a wise decision to go with a 5G network phone.  So that you can be prepared in advance to get the benefits of 5g. It will help you to download things in a few seconds and is a great supporter of virtual reality.
Final Verdict:- Buying a new smartphone is like an investment for the next 4 to 5 years. You don't want to waste your time and money on a device.  That will never meet your expectations and start giving you trouble in the next 3 to 4 months. Make your decision wisely and only buy what is best for you not what brand or other people tell you? Every individual has different requirements. Invest in a device that is within your budget and has all the features that you may want and need in the future. Sell second-hand mobile phones at Quickmobile and get the best market price for your used device.