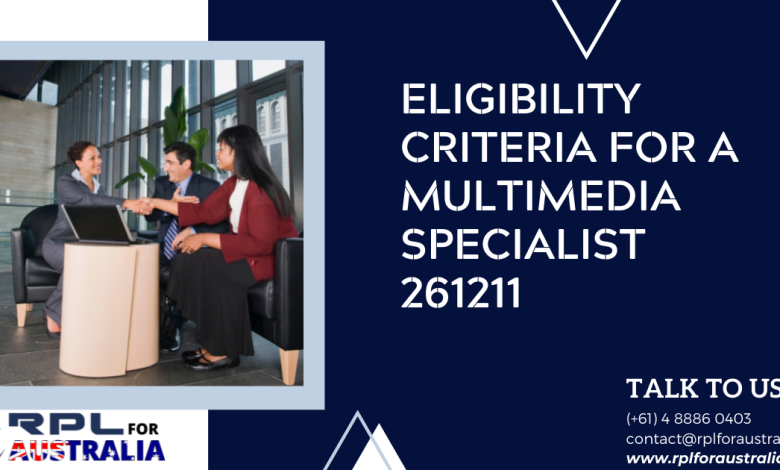 If you want to migrate to Australia as a Multimedia Specialist 261211, then this blog is a must-read. Here, we will tell you necessary things like the roles and responsibilities, English language competency, qualifications, and the like. So, please read it carefully and thoroughly. 
The Roles and Responsibilities of a Multimedia Specialist 261211
Multimedia specialist roles and responsibilities are subject to change due to a company's specific requirements. However, the following are roles and responsibilities that you need to perform as per ANZSCO: 
Having communication with clients to know their expectations and requirements 
Recommending your clients about what can be viable technically and what will be an influential solution to their needs
Working with animators, web designers, programmers, and video procedures, supervising the designing team or guiding them as per the need
Testing the multimedia products to find any technical errors or faults and make the changes necessary 
Collaborating with network experts or network engineers regarding that network-related issues with websites. These issues can be data integrity, web hosting, data security, user access, backup, space allocation, and recovery 
Utilizing different Computer-aided design packages like Flash Player, Photoshop, Dreamweaver, Apple Final Cut Pro, and Illustrator 
Presenting the final designs to clients and receiving their approval 
Authoring the files in one program utilizing programming languages such as Java or C++
Giving help in specifying and designing internet strategies and web-based methods 
Collaborating with a multimedia team that consists of the following: 
Project manager

Interface designer 

Multimedia producer

Video specialist 

Multimedia programmer 

Audio specialist 
Apart from that, working as an individualized entity depends on the organization's requirements. 
Eligibility Criteria for a Multimedia Specialist 261211
The following are the acceptable qualifications to become a Multimedia Specialist 261211 for a positive RPL ACS skill assessment:
The educational qualification you need to have is a bachelor's degree or high qualification in a field related to multimedia and technologies like: 
Computing

Computer science 

Multimedia technology 

Design 

Animation 

Software development 

Web development 

Visual arts

Business information systems (BIS)
You can use a related experience of at least 5 years as compensation for formal education in certain cases. 
Core ICT units with a Multimedia Specialist Profile
Computer graphics 

Animation 

Operating systems

Image processing 

Application development

Web Engineering 

Client-Server Technology 

Interface Designing 

Programming (C++, Java, Internet Programming, Game Programming)

Multimedia Technology 

System Analysis

System Design

Object-Oriented Design

Mobile Technology 
Necessary Skills for a Multimedia Specialist 261211
Apart from the qualifications we mentioned above, the ANZSCO provides some core ICT units or skills related to the profession. You need to confirm the capability to work as a Multimedia Specialist in your RPL skill application. Therefore, you must possess the following characteristics apart from having some technical skills: 
Interest in learning 

Analytical and problem-solving skills

Excellent communication skills with clients and technical team members

An eagle eye for details and designing

Organizational and time management traits 

Teamwork skills 

Being innovative and imaginative 
English Language Requirements: 
The below-given English language requirements you need to meet to prove your English competency: 
PTE Academic with at least a score of 50 (R, W, L), 65 in speaking, and 65 overall 

IELTS result with at least a score of 6 (L, R, W), 7 in speaking, and 7 overall 

An OET result with at least grade B in every section

TOEFL iBT with at least (L:12 R:13 W:21 S:23 overall L93)
Exceptions: 
Priority Skilled Lists might apply specific requirements in some territories/states

Australian Graduate expectations apply in some territories/states 

Countries exempt from submitting OET or IELTS are the UK, New Zealand, Ireland, and Canada 
Where registration or licensing is necessary, you need to show a level of English. This level must be sufficient to satisfy licensing/registration or a minimum IELTS or equivalent, whichever is higher. 
Tips for Writing an RPL Report
If you follow the below-provided tips, then you will write a special ACS RPL report: 
Identify and determine the Area of Knowledge topic that you choose to explain. After that, enter the name of the Area of Knowledge topic in the box. 

Limit all explanations to no more than one to one and a half pages. 

Be concise and clear when you explain. 

Don't address all subtopics in the Area of Knowledge in your explanation. Address a minimum of 2 of the subtopics. Another thing to remember here is to enter the subtopic name(s) in the box. 

Explain the way you attained the knowledge in the expendable typing area. Besides that, it illustrates the deepness of that skill and knowledge. 
Things to Remember for an Effective Employment Reference Letter
For a positive RPL ACS Skilled Assessment Australia, keep the following things in mind when preparing your employment reference letter:
Write dates in the format DD/MM/YY

Mention the tasks you performed 

Don't show concurrent employment 

Write the specified information 

Signatures are a must for the completion of an employment reference letter

Certification is a must-do 

Mention your genuine work experience in clear terms 

Put your strengths into the limelight 

Don't forget to mention your job location and work hours 
Put your ego aside, and go for Professional help for ACS RPL Report.