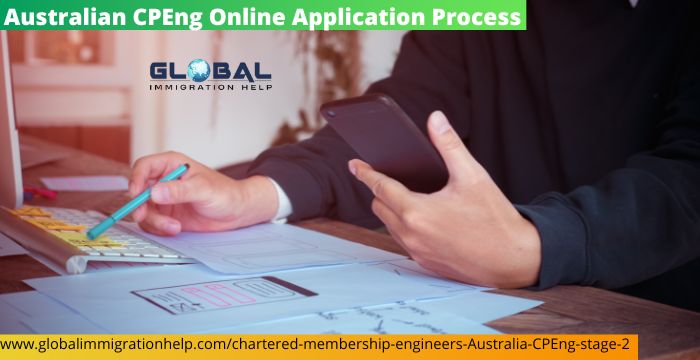 Do you dream of becoming a CPEng (Chartered Professional Engineer) in Australia? If yes, then read this article. It is because here, we will provide you with the online application process to become Chartered.
In addition to that, we will also tell you how to prepare for the Chartered Professional Interview. So, do pay your 100% attention.
CPEng online application process:
The CPEng Australia online application process consists of six steps below:
First, complete the Chartered Self-Assessment, giving a competency rating against the Stage 2 Competencies.
Have the Industry Review to the level of Functional or Above. It involves giving a short statement of the items of proof. You may have to show this evidence to prove your Chartered competency or all Stage 2 Competencies. After that, these statements require a confirmation from a suitable Industry Reviewer. Here, note that no actual proof documents you need to submit at this point in this process.
Enroll and give your payment, resume and CPD Log. You have to confirm the areas of practice you are looking for Chartered. Apart from that, link your completed Industry Review to your application at this point.
EA assessors will contact you for an Evidence Discussion (generally within 3 weeks of your enrolment). This discussion is your chance for seeking clarification. Apart from that, you can also ask questions before providing your evidence documents for assessment. EA will have reviewed your Industry Review results. Moreover, it may suggest alternate proof you have to submit. Besides that, it will also discuss the Areas of chosen practice. After the completion of the discussion, you have to upload your proof documents. In some matters, EA may feel that an Evidence Discussion is not necessary. Instead of this, it will simply offer comments to this effect. In addition to that, it will also request your upload based on your Industry Review.
A Professional Interview will have an arraignment once the review and assessment of your evidence and are documents is complete and satisfactory. This interview will take nearly an hour. Moreover, it will involve a broad discussion of the proof you gave throughout your application. A presentation may be necessary and confirmed after the arrangement. The interview will be taken via Skype or a similar video-conference arrangement. Another thing to remember here is that it will be with a minimum of one Assessor (may include external Industry panelists).
Get Chartered. After the interview, you will get an email notification confirming your Chartered award and Areas of Practice. An official Certificate will follow in the mail very soon.
Keep in mind: You can start Steps 1 and 2 when you are at the grade of Student/Graduate or a non-Member.
CPEng application cost:
Your Chartership application will cost you $1815 including GST.
Chartership application criteria:
You need to have a current Membership Grade of Full Member (MIEAust, TMIEAust, AMIEAust or above.
Chartered Evidence:
Chartered Evidence can consist of email, minutes, plans, drawings, reports, charts, risk assessments, written narratives, presentations or other documents. These pieces of evidence must show your engineering work and prove. Besides that, they also show that you fill the requirements of the Chartered Competencies for your Areas of Practice and Occupational Category.
Your Chartered Evidence will also include your resume and Continuing Professional Development Log.
The reason for providing your Chartered Evidence:
Your Chartered Evidence begins with your Industry Review and provision of your CPD and resumes at enrolment. However, you only offer the actual document to demonstrate your competency against the Chartered Elements of Competency. Show that document after your Evidence Discussion.
It is a must to collate the Evidence document from when you start your Self Assessment into a 'Portfolio'. You can use it to choose appropriate documents to reference in either your Evidence Statements. After that, if it is appropriate, then it is ready for upload for assessment.
Chartered Professional Interview tips:
The following is a list of the tips for Chartered Professional interview to become a CPEng:
Ensure that you have a clear idea of the Chartered competencies. After that, reread the evidence you give to EA in your application to date.
Make sure that you understand EA's Code of Ethics and Ethical behaviour principles, sustainability principles and the current engineering. Besides that, you also need to ensure how it impacts you (regulation, major changes to codes and legislations, OHS and so on).
Have your reasons for being Chartered in mind.
Talk to those who have attained Chartership (have some tips and hints).
Anticipate questions that the authority may ask you and know what your answers may be.
Have confidence: EA can understand you will have nervousness, but it has not invited you to the Professional Interview. The Professional Interview is dependent on the evidence you present to date.