Business
SEO for Shopify: Proven Strategies for Ranking #1 on Google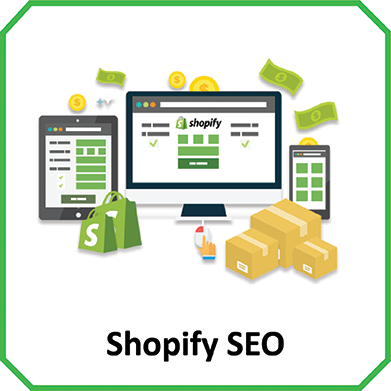 SEO for Shopify entails optimising a Shopify website to perform better in search engine results. Though SEO can be applied to any website, SEO for Shopify is specifically design to assist e-commerce business owners in obtaining more organic traffic and higher Google keyword rankings.
SEO is a low-cost way for potential customers to discover your Shopify store online. People nowadays make purchases through search engines or other digital channels. Having your website on the first page of the SERP results is associate with your brand's credibility.
Let's look at some tried-and-true On-Page and Off-Page SEO tips for your Shopify Store.
Shopify On-Page SEO Tips
On-page SEO for Shopify is the practice of optimising web pages in order to improve your website's search engine rankings and generate organic traffic. Let's look at some tried-and-true on-page SEO for Shopify tips for ranking your ecommerce website on Google.
• Conduct an SEO Audit
An SEO audit for your Shopify store allows you to identify issues that your Shopify website may be experiencing that make it difficult to rank on Google. A thorough SEO audit will immediately identify those issues.
Missing titles and descriptions, missing heading tags, 404 pages, canonical tags, index bloat, and other issues are detected during an SEO audit. Search rankings for online stores are extremely competitive. It is difficult for the website to achieve the number one position on Google.
SEO auditing allows you to determine whether your content is of poor quality or outdated, whether your web pages are optimized, the speed of your website, and other critical factors that influence the ranking of your Shopify website.
• Perform Keyword Research
Keyword research will help you determine what terms customers are actively searching for on the internet. Using keyword research will assist you in optimising your pages for those search terms. This informs Google about your ecommerce store and attracts potential customers.
Assume you sell handcrafted chocolates on Shopify. People looking for 'handmade chocolates' may be looking for information on how to make chocolate. You're not interest in those individuals. You want a customer who is interested in purchasing handmade chocolates. Change your keywords or phrases to include active words such as buy.
• Keep URLs short and relevant.
Long URLs make it more difficult for your website visitors to share your product pages or content through various channels. However, if your URLs are short, there will be less room for ambiguity and your pages will be easier to find.
Short, relevant URLs highlight the product's keyword. It is prudent to create short URLs with keywords that will be frequently search for. Some of the best URL practices for improving your website's Google rankings are listed below.
Keep the URLs brief and to the point.
Incorporate your target keyword into the URL.
Avoid using unnecessary words in the URL, such as and/or/the/etc.
Make the product title and description distinct.
• Improve image alt text and file name optimization
Google uses alt text to determine the subject of an image. Google is still a machine, and visual data is difficult to analyses. Alt text is required to provide search engines with contextual relevance about the web page where the image is located.
Your Shopify website will most likely contain a large number of images that showcase your products. But keep in mind that Google cannot see your images. You must tell Google what the images are by using descriptive file names and keyword-rich alt text.
Shopify stores are typically very visually appealing. Product images are visually appealing and play an important role in the purchasing process. Including alt text that incorporates your researched keywords into your images aids in image ranking.
• Improved Internal Linking
Internal links are links that lead from one web page to another within the same domain. These links are essential for passing internal link juice from one web page to the next. Internal links assist search engines in better understanding your site structure and crawling your website.
The Shopify homepage is usually the focal point of the site, and it is frequently the most powerful page. Making navigation links to other pages on your Shopify homepage increases the interest of your visitors because they can easily move around the online shop.
Also read: 25 Most Asked Digital Marketing Questions Answered
Shopify Off-Page SEO Tips
Off-page SEO for Shopify refers to actions performed outside of your website that are responsible for your website's ranking in the SERPs. The first step is to determine which pages on your Shopify website will be target for link building. They could be the home page or any other landing page on your Shopify website that you want to rank.
These are typically the most visited pages on your Shopify website, bringing in a significant amount of traffic.
Guest posting is the process of approaching other website owners and asking them to write guest blogs for their sites in exchange for backlinks. For guest posting, one contacted prospects via email and asked for guest post contributions to their website in exchange for a backlink.
When reputable websites link back to your site, it boosts its authority in the eyes of search engines. If your Shopify store receives backlinks from high authority websites, search engines are more likely to give your content more visibility.
Help A Reporter Out (HARO) is the process of contacting reporters and journalists in order to provide them with expert quotes for upcoming articles and obtain valuable media coverage. This is a fantastic service that connects journalists with valuable sources.
The HARO technique benefits everyone because journalists get expert sources for their articles and sources get a high-quality backlink for their website.
Read more: http://articlesoup.com/