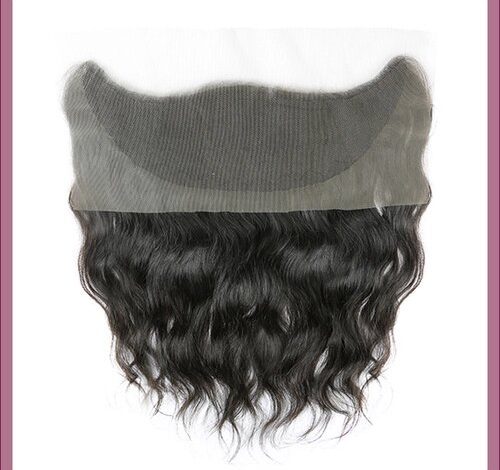 The current trend is lace frontals. This is due to their adaptability and the perfect method that appears to be sprouting from your scalp.
One method to tell a frontal from a closure is that frontals are used to mimic the hairline from ear to ear, while closures are meant to mimic the hairline's natural parting.
What Is A Lace Frontal?
Sew-in or bonded installations are available for lace frontal hairpieces. Thanks to lace frontals, your wigs and hair extensions will seem more natural. They often span your hairline from ear to ear and measure 13 inches across and 4 inches in the back. Because of its adaptability, you can experiment with various hairstyles like center parts, side parts, and ponytails that look natural.
The Pros Of Wearing Lace Frontals
Lace frontals have less installation time.
For lace frontals, it is simple to apply and frequently takes less time than sew-in natural hair extensions to complete. Lace frontal wigs often take less than an hour to install, but extensions with frontals typically take an hour and a half. Ponytails and other sew-in natural hair extensions can take anywhere from 2 to 4 hours to install, depending on the style. For contemporary ladies who desire protective styles to protect their natural curls and want to spend less time getting ready each day, lace frontals are the preferred choice.
Allows you to style your hair as you desire.
One of the main benefits of wearing a lace frontal hairpiece is the ability to style your wigs or extensions any way you like, from ponytails to middle or side parts. You can freely arrange your hair because lace frontals give you a natural hairline. It almost feels like you're styling your real hair!
Allow your hair to breathe.
We are all familiar with the habit of having to wear our wigs or sewn-in extensions and dealing with the excruciating agony they cause in the sweltering heat. The constant flow of air to your scalp and hair is made possible by the comfort of lace frontals when worn on the head. 
The Cons Of Wearing Lace Frontals
Damage your hairline.
Wigs with sew-in lace fronts are often attached with glue or lace tape. They can last for two to four weeks without needing to be touched up. The longer your lace frontals are left in place, the more likely it is to irritate your skin, badly damage your hairline, or even break off your edges.
Require a lot of work.
The natural appearance of the first installation of lace frontal wigs needs a lot of work. To obtain a realistic hairline, you must perform things like bleach the wig's knots, tweeze, tint, pluck, or trim baby hairs, and properly place your wig. For better results and a more natural look, sew-in lace frontal extensions frequently need weekly upkeep and maintenance. Wear a lace frontal wig instead of sew-ins if you don't want to deal with all that styling, as it takes less effort.
More expensive.
Lace frontals cost more to purchase than lace closures because a more natural, realistic appearance is required. Although lace frontals require fewer raw Indian bundles, the flexibility of versatility it allows to style any desired look will account for the increase in the lace frontal's price.
If you still choose lace frontals after knowing their benefits and drawbacks, look for the best hair salon in your area using the specific region that you are in. For instance, "the hair supply Newton" or "the hair shop NYC." You can use such a search to find the closest hair salon in your area.