Gone are the days when one had to wait in long lines to send a parcel or courier to their near and dear ones. With the advent of technological innovations, particularly the on demand logistics apps, one can easily send parcels as well as be aware of the expected time of arrival of the parcel.
Now you may be wondering the reason that has been particularly responsible for the popularity of these solutions? Well, the main reason has been the pandemic of course. After the end of the pandemic, it became clear that customers and businesses both had to inculcate the use of solutions that would make their day-to-day lives easier but also allowed them to propel their business ahead.
Especially if you are in an industry such as the transportation and logistics industry, it becomes even more relevant to inculcate and incorporate solutions that would help you to take your business ahead to a greater level.
So let us begin.
All You Should Know About On Demand Logistic Apps
Allied Market Research in its recent report has predicted that the global logistics market that was valued at 7641.20 billion dollars in 2017 would reach a valuation of 12975.64 billion dollars by 2027. This valuation would take place at a CAGR (compounded annual growth rate) of around 6.5% from the period 2020 to 2027.
Static source: alliedmarketresearch.com/logistics-market
Interesting right? As I stated earlier, the pandemic resulted in the massive slow down of different supply chains and logistic activities all across the world.
This has led to the inculcation of on demand logistic app development services. This has been mainly to ensure a seamless flow of items from the point of origin to the point of consumption.
Other Reasons Responsible for Popularity of On Demand Transportation App
Uber was responsible for major industries to also transform its way/ways of delivering services. Particularly in industries like logistics and transportation, they realized it was extremely critical to include the Uber for transportation app and the Uber for logistic app. This would go on to drive their business to a greater extent, help them grow their user base, and thereafter earn a good amount of revenue along the way.
Other factors that were especially responsible for this inclusion were as follows-
• To eliminate the broker and middlemen in between. This was because would help towards boosting the overall sales as well as profits.
• Optimizes time and cost. With the app allowing for creating a direct link between truckers and customers, therefore time and investments get saved consistently.
• Assists in improving the overall operational efficiency. This is because it becomes easy for the industry to manage the fleets through the app itself, and subsequently if necessary update its details too.
• Becomes easy for the transportation and logistics industry to manage and keep track of the different routes as well as delivery schedules.
All these factors have thereupon been responsible for helping the new transportation and logistics industry to thereupon include solutions such as the Uber for transportation app and the Uber for the logistic app into their operations. This is to mainly build their strong online presence, manage fleets seamlessly, and earn a good amount of revenue along the way.
Having awareness now of the app and the factors responsible for its popularity, let me give you an insight into the statistics. This will help you understand the market position of this industry, and the growth it has witnessed as a result of having the app.
Thereafter, I will provide you with a list of the different kinds of transportation and logistic app. Finally, I will discuss the techniques that you need to follow during on demand logistic app development to streamline the success of your new logistics venture.
Market Position of the Logistics Industry
Image Source:  appventurez.com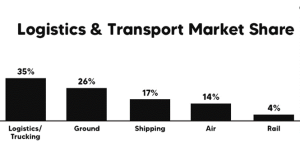 Image Source: appventurez.com
Observing these two graphs, you can understand that the logistics app has a really fruitful scope, especially after 2024. It would generate revenue of around 28.71 million by 2024.
This suggests that the industry has a bright future and observes consistent growth.
Therefore, if you are considering building an on demand transportation and logistics app for your fleet industry, it is vital to focus on some important areas. This goes particularly while delving into on demand logistic app development services.
Let me explain this to you briefly in the lines below.
Techniques to Adopt during On Demand Logistic App Development Services
RCA or Root Cause Analysis is the first step you need to follow before you enter the building stage. This includes examining the different issues that might occur during the development phase. This is followed by analyzing features that can help mitigate or reduce those issues.
Examine the Logistics App Kind You Want
There are three different kinds of logistics apps. First is the fleet mobile app. It helps customers to get updates on real-time fleet data and end-to-end management. Next, we have the warehouse mobile app that assists in accessing and storing inventories. Finally, we have the tracking management mobile app that helps users track vehicles with goods for import and export. Once you perform this task, you enter into the third step.
Now that you have identified the kind of app you want to build based on the research you perform, choose features wisely. This includes adding elements within the app to help customers solve different problems. Automation should also be easy for tasks like scanning images, bar codes, etc.
Get Your Budget Estimate Done
Once you have performed research related to understanding the market where you will be launching your app, followed by identifying the constituents that would help drive value for your app, now perform a budget estimate. You have to examine the functions that your solution would be achieving. Once you perform this task, you enter the fourth stage, which is getting in touch with a dedicated team of developers from a trusted transportation app development company.
Connect with a Trusted Transportation App Development Company
The last and final step is connecting with a trusted transportation app development company. Perform as much extensive research as possible. This includes gaining an insight into the tech stack they use during the process of app development, the security protocols they follow, and so on. This also comprises the support they will provide to build a ready-to-launch solution that does not consume too much of your time or finances.
Performing all these steps will ensure you get access to an app that drives maximum value for your business. Most importantly, it will assist in gaining maximum customers and revenues both in the long run.
Closing Words
The logistic industry is transforming at a constant rate. Therefore, it becomes necessary to be aware of trends that would help drive the business ahead. This includes creating an app with elements like artificial intelligence so that tasks like demand and route planning become easy.
Also, include a real-time supply chain visibility tool to ease the task of supply chain visibility.
Finally, blockchain is another trend you can include as well, apart from advanced analytics for making decisions in a more enhanced man
For this task, get in touch with a transportation app development company. Their experience in on demand logistic development services, including features, etc, will help you maximize your user base and make maximum profits right from Day 1!