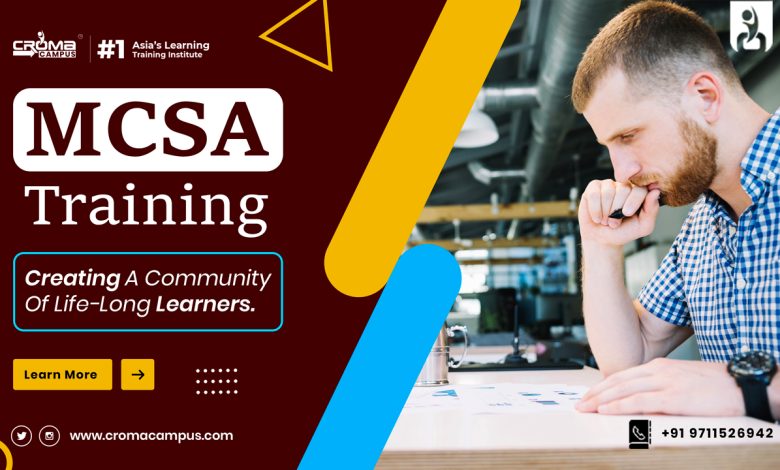 Introduction
Microsoft Certified Solutions Associate, or MCSA training, is a Microsoft credential that can help you advance in your profession. The knowledge you get after passing the exam allows you to work with Windows and server-related products.
However, professionals may select whatever MCSA training certification they want based on their expertise. A few such certifications include; MCSA: Windows 8.1, Windows Server 2016, MCSA Cloud Platform, MCSA SQL Database Administrator 2016, and so on. Each of these credentials accompanies an MCSA Online Training program that provides you with specialized abilities in the relevant field. We will take you over the different job roles available after completing the MCSA credentials in this article.
MCSA Certification: Meaning
Microsoft's entry-level certification, Microsoft Certified Solutions Associate (MCSA), covers several Microsoft products and job functions. The MCSA certifications are for entry-level professionals to showcase their expertise in several Microsoft products, roles, and subject areas.
However, MCSA credentials are also a requirement for Microsoft Certified Solutions Expert (MCSE) certifications. This certification is one step forward to becoming an experienced IT professional. If you want to obtain an expert-level certification from Microsoft, you must clear the MCSA certification exam.
Different MCSA Certifications
Microsoft provides certifications that focus on your skills to create and build technological solutions. Microsoft Azure, SQL Server, Office 365, SharePoint Server, Skype for Business, Microsoft Dynamics 365, Exchange Server, and Windows Server are just a few of the products that MCSA certification covers.
What Is Mean Stack And Why It Is The Best For Web Development?
There are several MCSA certificates to select from. Each requires you to pass up to three tests to be certified. Among these certificates and examinations are:
MCSA BI reporting
SQL 2016 BI development
Microsoft Dynamics 365 for operation
SQL 2016 database administration
MCSA Universal Windows platform
SQL 2016 database development
MCSA Web Applications
SQL Server 2014/2014
MCSA Windows Server 2012
MCSA Windows Server 2016
Cost of MCSA Training
Every individual MCSA test costs around $165. As a result, certifications that require multiple examinations to pass must pay the amount for each exam. However, the cost of training will vary depending on the course you select. If you don't want to spend money on a complete package, you can also refer to the available free materials for MCSA certification.
The best thing about MCSA credentials is that they do not expire. So you don't have to worry about the renewal costs. However, Microsoft does retire examinations when products change, so if you become certified in a product that is absolute, upgraded, or altered, you may need to acquire another certification.
Career Opportunities After Completing MCSA
Getting an MCSA certification is the first step closer to your dream of becoming a certified MCSA professional. After the completion of the MCSA credentials, you can explore different career opportunities. As a result, these opportunities are as follows:
●  Network Administrator
Network administrators set up and administer a company's networks and computers to ensure the flow of crucial information. Moreover, they diagnose network problems, implement and manage network hardware and software, and assure network availability and security. Also, they ensure that they meet the necessary performance criteria.
●  Computer Network Specialist
He is a specialist in installing, securing, inspecting, and troubleshooting networked computers in enterprises. He is also in charge of running a support desk and monitoring internal and external threats. Thus, to take on the position, he must be well-versed in network administration.
●  SQL Database Administrator
An SQL database administrator must know the SQL server's capabilities and the appropriate technical expertise. However, he should understand how to use database technology to address the company's issues and prospects. Moreover, he collaborates with IT operations and application development to achieve business goals. In addition, the administrator should verify that the organization's databases are reliable.
●  Cloud Architect
A cloud architect is a specialist who oversees a company's cloud computing plans. However, the tactics of such professionals must include; cloud application design, adoption plans, cloud administration, and monitoring. He is in charge of application deployment in cloud settings such as private, public, and hybrid. In addition, he is an organizational consultant with an up-to-date understanding of the newest developments.
●  System Administrator
A system administrator maintains and configures computer systems in an organization to guarantee their reliable functioning. These systems may be multi-user computers, such as servers. However, these professionals ensure that the resources, performance, and security of the computers match the users' requirements while not exceeding the budget. He does this by installing or upgrading computer components, maintaining security policies, and troubleshooting problems.
●  Cloud Administrator
A cloud administrator works in a virtual environment that combines Windows and Linux. He is in charge of several cloud servers and cloud infrastructure services. However, he configures and fine-tunes cloud infrastructure systems and provides cloud server support, such as patching, security setups, and troubleshooting.
Conclusion
To conclude, obtaining MCSA training is advantageous for IT professionals who want to refresh their expertise and advance their careers. Throughout the Certification program, you will have several opportunities for hands-on training that will prepare you for future positions. Alternatively, you can enroll in MCSA Training in Noida for more career options.