Make your Product Standout
Vape isn't a type of cigarette but many people use vape as a substitute for cigarettes when they are trying to quit smoking since vape provides them with a similar smoking experience. However, since there are tons of different types of vape products available in the market, the only way to make your vape cartridge boxes standout from other competitors is through elegant packaging. Vape cart boxes should look more appealing and high end quality to attract more customers.
Different Styles
Since markets are flooded by the same products of different companies, it is really important to make your packaging design unique yet elegant enough to be picked. Few versatile designs for Vape Cartridge Boxes that will make your product standout includes: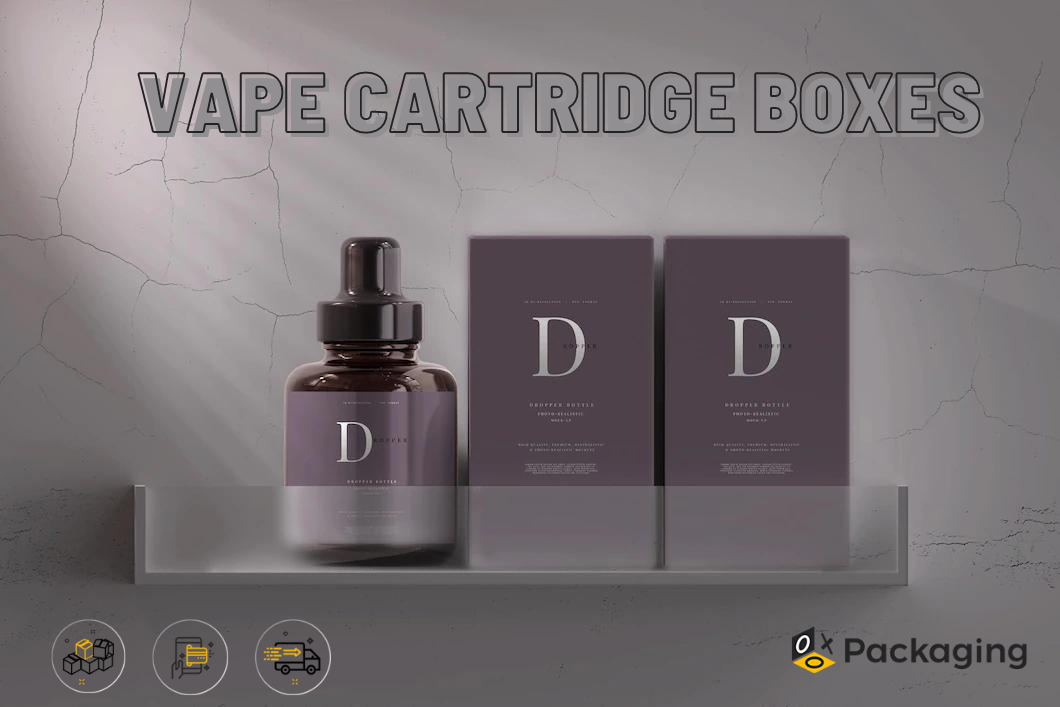 Slim and Tall Vape Cartridge Box
Sleek design vape boxes with an increased length are known as slim and tall vape cartridge boxes. These boxes are specially designed to hold vape cartridges of 0.5ml and 1ml. They are convenient to carry and compact in shape. It doesn't take much space on shelves and also provides easy stacking.
Box with a Flip-top Panel
Vape cartridge packaging in this category comes with a flip-top panel that makes it relatively easy to open and close the box. The shape of these boxes is similar to the shape of cigar boxes and they are commonly preferred for customisation.
Wide Shape Vape Cartridge Boxes with Hang Tab
The hang tab on the top provides ease to retailers to display the box on POP and POS display. Also since these boxes are wide in size, they have more space for personalisation of the brands hence they are ideal for marketing and branding.
Blister boxes with inserts
It is a combination of plastic and cardboard packaging. The inset card is where you place your cartridge and cover with the plastic sheet. It is one of the most affordable solutions for vape cartridge boxes. You can put any information on the insert cards as there is enough blank space.
Blank Vape Cartridge boxes
These boxes are preferred for clean, simple and minimal packaging. They are available in white, black and golden colour. Blank vape cartridge has enough space on the back and front to put labels or stickers.
Deciding the Add-On and Finishing
When you want to add a fine and classy touch to your vape cart boxes, you can always opt for elegant finishings. Long Lasting and appealing finishings may include Gloss finishing , Matte finishing, Aqueous Coating and Spot UV Coating. Apart from the finishing coatings, Embossing, debossing, spot UV, foil stamping, are the favourite Packaging Boxes add-ons that can take your boxes from great to really great.
Side-Effects of Vaping
We all are well aware of the fact that vape has a harmful impact on our health. Although vape is recommended for people who want to quit, the effects of vape solely depend on the amount of vape being consumed. The most common side effects of vaping includes:
Dry mouth and throat

Constant cough episodes

Shortness of breath

Heartburn and respiratory system irritation

Constant and lasting headaches.
Nicotine itself is not very harmful to adults, but the other things inhale along with the nicotine can be prove hazardous. Apart from these immediate side effects of vaping, there can be risks associate with long-term vaping too.
Why Choose Us
An ideal packaging company shouldn't only promise the quantity but the quality too. The features that make OXO Packagings different from other packaging companies is that we do not compromise on our quality. We provide free designing by our versatile designers. We promise to provide the best quality in the most affordable rates and astonishingly it doesn't even slow the delivery as we provide swift delivery.