Tech
The Best iPad Pro 12.9 Keyboard Cases in 2022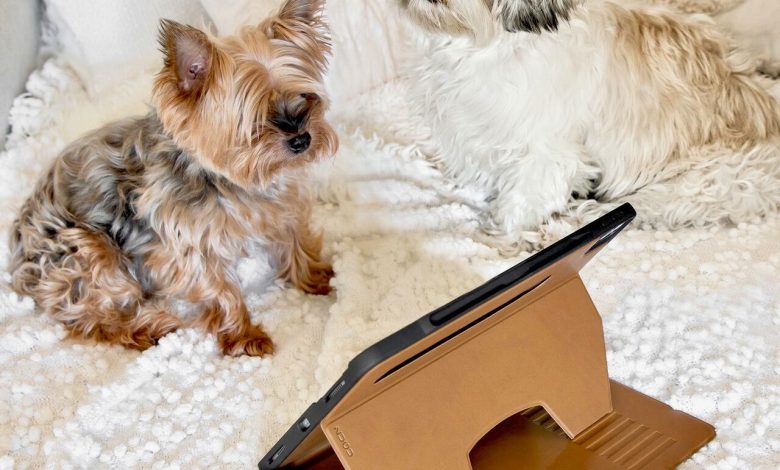 Your iPad Pro is as powerful as a computer— but, without a keyboard, it may be hard to take advantage of all that operating power. The iPad's on-screen keyboard is usable for those times when you need to jot something down or fill in search fields in a browser, but when it comes to serious writing it definitely lacks something.  In addition to your regular iPad Pro 12.9 case that provides full drop protection, you may want to consider buying a keyboard case to turn your tablet into a laptop when there's work to be done.
Here, let's look at the best iPad Pro 12.9 keyboard cases in 2022.
Logitech Combo Touch 
The Logitech Combo Touch for the iPad Pro 12.9  is a favorite for many iPad users, though it's not cheap. It connects to the iPad using Apple's propriety smart connector, so there's no dodgy Bluetooth connection to worry about. The keys are ergonomic and a pleasure to type on, and they're backlit the way a 'real laptop' would be. They're also extensive and include function keys (that handy ESC, for one).
bahis.com
The combo touch is designed to be both a keyboard and a case, and you can actually remove the keyboard segment if it's in the way during media consumption or when you're doing light computing. The case provides good protection on all sides, and the keyboard will protect the screen if folded over it.
Many of those who love this keyboard case love it because of the trackpad: it's big, expansive, and super responsive. Click anywhere, or use it for multi-touch gestures. It works just as well as a trackpad on a quality laptop computer— or maybe better.
One of the only gripes users have with this keyboard case combo is that it's hard to use on your lap— the stand, while versatile and many-angled, does appreciate a flat surface. If you're all about desks, coffee tables, and cafe booths, though, this keyboard will function just fine.
Zagg Pro Keys
If you're still getting over the sticker shock from seeing that price tag on the Logitech Combo Touch, Zagg Pro Keys may be a keyboard case worth looking at. There's no trackpad here, but the Zagg Pro Keys is much more affordable. The keys are large and easy to press, and you'll still get that tactical feedback that is missing in really budget keyboards.
This keyboard doesn't have a trackpad, but it does have backlit keys for low light conditions. Not just plain, boring backlit keys either: you get seven color options and four different brightness levels. There are a number of special-function keys: screen locking, volume, and brightness control, for example. The flip-back stand allows for two viewing angles, and, like the Logitech case. The keyboard and inner case are detachable.
Since the keyboard connects to your iPad via Bluetooth and not a smart connector. It can't share the battery with your device. Instead, it charges through its own USB-C connector. The battery life is pretty good: according to the people at Zagg, it lasts up to one year.
Apple Smart Keyboard Folio
Apple's Smart Keyboard Folio is another good option when it comes to a keyboard case for the iPad Pro.  With a clamshell design providing front and back protection, this minimalist keyboard doesn't have a trackpad either, but the full-size keyboard is pretty nice. The keys are textured and feel good in the hand. This is the only keyboard case that made our list that doesn't have backlit keys. So if that's a must for you, you'll want to choose one of the others.
Those who love the smart keyboard folio love the simplicity of it. Soft and light, sleek and professional-looking, it fits the iPad like a glove. No pairing is necessary, and the iPad slips magnetically into place and connects via the smart connector, which also provides a charge.
Those who dislike it find it underwhelming for the price tag, which is—- Apple-sized. But quality keyboards aren't cheap, and this one is built well. If you want something just a little more magic, go with the Magic Keyboard. Or try out the Zagg and experiment with those seven colors of backlit keys.
Apple's Magic Keyboard
The Magic Keyboard came out with some intense hype, and the primary fault anyone finds with it might be that it isn't quite as much of a game-changer as they might have imagined. Others suggest that, like the Smart Folio, it isn't quite worth Apple's slightly inflated price tag.  Everyone agrees, though, that it is a pretty nice keyboard, and the glass trackpad works like a dream.
The keys have good travel and a very satisfying click. There's no hint of portable/travel/makeshift to this keyboard case: it feels like a laptop keyboard. For people who do serious typing, this matters. It's the responsiveness of the keys which can break through writer's block or help
This keyboard case also features pass-through charging— plug it in with USB-C and your iPad will get a bonus charge. If you don't plug it in, it'll pull what battery it needs from your iPad Pro.
The magic keyboard folds into a case with front and back protection, and the cantilever design gives you the ability to choose your viewing angle and makes the iPad appear to 'float' above the keyboard. There's just one restriction:   you can't flip the keyboard backward to use the iPad as 'just a tablet'. Since it is easy to remove from the tablet— simply pull your iPad off the magnetic connectors— most users seem to prefer to remove it from the stand before using it for watching videos, playing games, or other non-typing functions.
Since it's so easy to remove, you may want to purchase another more protective case, like the Zugu iPad Pro 12.9 case, to protect your iPad when you're not actively typing.
These four iPad keyboard covers have significant differences— and a range of price tags— but you won't go wrong with any of them. Which is your favorite, and why?