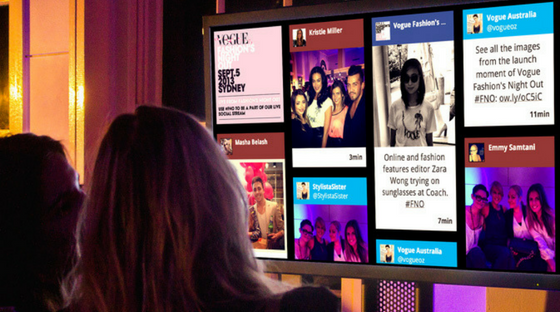 Have you ever heard about social media walls? Ever wondered why they are so much in demand and widely used across industries? 
Be it any industry or sector, the engagement of the people is of utmost importance to increase the impact of the brand. However, it is important that brands take creative measures to ensure complete engagement from their targeted audience. 
This is where social media walls come into play. If you are clueless about what it is and how it can work to tremendously increase your engagement game, then you have landed at the right place. In this blog, you will get to know everything you need about social media walls. 
We are certain by the end of this post, you will be convinced that social wall is the perfect solution for enhancing your public engagement. 
Without any further ado, let's get started! 
What Is a Social Wall?
Simply put, a social media wall is a collection of social media content from different social media platforms in a unified and customized format. It can be displayed by users across various marketing touchpoints for the marketers to reach out to their target audience more effectively.  
The best part about a social media wall is that it can be designed exactly as per the needs and preferences of the users. However, it depends on the social media tool chosen. If you are wondering about the content, the social media wall can display a variety of content. From brand-generated content to User-Generated content. 
Keep reading to find out how you can leverage a social media wall for enhancing the engagement of your audience. 
Here's How You Can Increase Engagement Using Social Wall 
Run a successful hashtag campaign
If you are a brand, then we are sure you must be acquainted with the significance of hashtag campaigns. Hashtags are omnipresent and have emerged to become an important part of every marketer's social media marketing strategy. 
If you have an existing hashtag campaign, you can display it on a screen like digital signage and place it strategically to increase the participation of your audience. Everyone loves getting featured and the onlookers will be excited to see their content being displayed. This would result in more engagement and participation from your audience. 
Leverage and display User-Generated content
Nothing holds more value and power than the content created and published by the existing customers of your brand. 
Every day social media users create and publish a large amount of content. Like pictures, videos, reviews, etc., and around brands to voice their opinions. Furthermore, aggregating and embedding it on a social media wall helps brands to build trust and confidence in their prospects. If you own a retail store or some other brick and mortar store, display User-Generated Content. It is a great way to convert potential customers into loyal existing customers. 
Moreover, more than 85% of customers leverage User-Generated content before finalizing a product. All you need to do is strategically display it on touchpoints like digital screens to make it more evident. 
Initiate conversations with social media walls 
Social media walls serve as a great tool for initiating conversations between a brand and its targeted audience. If you are hosting an event and witness your audience not opening up since they are hesitant and shy, then including a social media wall can make them open up. 
You can keep the name anonymous and aggregate their tweets or views from other platforms and display it on a social media wall. Doing so would help your audience to come out properly and help you in initiating conversations with them. 
Moreover, this would also help in breaking the ice or communication barriers between the attendees. Having the same opinion would make them speak to each other more openly, leading to more engagement. 
Final Thoughts 
This brings us to the end of this post. Now you are aware of the relevance of social walls for increasing public engagement. 
Using a responsive tool like Taggbox Display, you can easily create a social wall. This tool comes with a few power-packed features that can be used for creating your preferred social media wall. 
Taggbox display offers various styling options to increase the visual appeal of your social wall. Additionally, the users can leverage the content moderation panel, advanced analytics, real-time automatic updates, and a back support team for anytime assistance. 
Go on now, create a social media wall that you want, and see your audience's engagement take off like never before!