Computers and Technology
How Much Does it Cost to Develop an On Demand Food Delivery App?
Cost to Develop an On Demand Food Delivery App?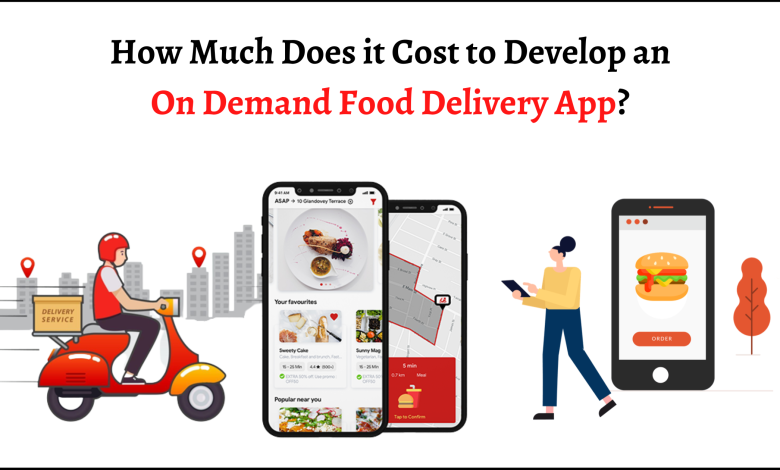 The on-demand food delivery apps market has witnessed substantial growth since the COVID-19 outbreak.
On-demand food delivery apps have made it quite simple for people across the globe to access their favorite meals from their mobile devices. It saves time and removes the cost of commuting to buy a meal.
According to the IMARC Group, the worldwide online food delivery market was at $106.1 Billion in 2021, and it is predicted to reach $223.7 Billion by 2027.
Seeing the market size, we can say there are ample opportunities for business owners to build a popular on-demand food delivery app.
This blog will discuss the various cost-driving factors and app development cost to build the best food delivery app.
Hire On Demand App Development Company Based on Various Cost-Driving Factors
1. Application Features and Functionalities
Depending on your business, you can choose what features and functionalities you wish to provide to the end-users. Nowadays, multiple enterprises are shifting toward automation and presenting convenience to their target audiences. Therefore, the more advanced features and functionalities you integrate into your food delivery app, the greater the price will be.
2. Platform Used
Depending on your target audience, you can determine what development platform is suitable for your firm. The two popular platforms for developing a mobile app are Android and iOS. If you want to build an Android app, it will cost less, but if you wish to target iOS users, you have to spend extra bucks.
3. Technology Stack
There are various technology stacks used to develop a complex app. Below are some stacks helpful in creating a food delivery app.
Registration – Google Sign-In Facebook Login SDK
Restaurant Listing – Foursquare API, Grubhub API
Maps and Locations – Google Maps, OpenStreetMap
Cloud Services- Azure, AWS, Cloud Sigma
Payment: Paypal, Stripe, Amazon Payment, Braintree
Analytics – Google Analytics, Apple Analytics
You can take the help of a reliable on demand app development company to integrate these tech stacks efficiently.
4. Application Design
An intuitive app design is all that you require to acquire the user's attention. Adding 3D components, vibrant color schemes, attractive graphics, and the presence of interactive design features will influence the development cost.
5. Application Development Team
Experienced app development services will assist you in dealing with technical issues and delivering your project on time. You can hire the following industry specialists to create a successful food delivery app:
iOS developer
Android developer
Project Manager
Business Analyst
Front-end developer
Back-end developer
Testing engineer
UI/UX designer
Overall On-Demand Food Delivery App Development Cost
Based on the abovementioned factors, creating a food delivery app may range between $25,000-$40,000 with basic features on a single platform. And if you wish to build an app with advanced features and require Android and iOS app solutions, the cost may range from $40,000 to $75,000.
End Note
While creating an online food delivery app, it is crucial to comprehend which food delivery market niche you intend to target. You will also have to look at various challenges you should address and a detailed project plan to achieve the objective.
You can hire app developers for a successful food delivery app that delivers user-friendly features, contributes to the development of the restaurant business, and facilitates the food pick-up and delivery procedure.