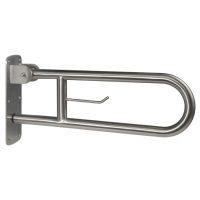 Grab bars are safety devices that are intended to help people keep their balance when standing, reduce tiredness while standing, carry part of their weight while navigating, or have something to grab onto in the event of a slip or fall. To help in the movement of patients from one location to another, caregivers might make use of grab bars to aid them. A grab bar may be used to hang on to when climbing or in the event of a fall by a construction worker.
Find more home improvement blogs here.
Construction of grab rails
Most countries have construction codes that stipulate the loads that grab bars must withstand. Therefore, they must be able to withstand large loads and unexpected impacts. In most cases, they are attached to the studs of stud walls. Or to masonry walls (which may need to be specially strengthened). In order to support the weight of the users. They must be attached to a sturdy wooden wall stud or other structural part rather than to the drywall itself.
There are several different materials used to make grab bars, including metal, plastic, fibreglass, and even composites. The material must be waterproof for moist locations like bathrooms. Aluminum, stainless steel, nylon-coated mild steel, epoxy-coated aluminium and even vinyl-coated metal and plastic are among the materials available.
Grab rails helps in accessibility
With grab bars, persons with a wide range of impairments and mobility issues have greater access and safety. The most typical place to see grab bars is in public restrooms for the disabled, but they may also be found in private residences as well as assisted living centres, medical facilities, and nursing homes. The most typical places to put grab bars are in the bathroom, either in the shower or in the bathtub.
As a night light, some grab bars also incorporate a light function, making them safer in the bathroom at night.
It is also needed in industry & construction
When there are no other handholds or footholds available, grab bars are used as a safety measure on machinery or atop fixed ladders in the construction sector. A horizontal, vertical, or angular arrangement is possible.
Grab bars with horizontal bars are the most effective in preventing falls when used as safety measures. In a fall scenario, scientific study has established that a horizontal bar's gripping power is much larger than a vertical bar's.  As a result, horizontal grip bars are the most secure option.
The Train Safety Appliance Act of 1893 mandated the installation of grab bars on all U.S. railway carriages. Grab bar clearance, diameter, and spacing on fixed ladders are outlined in OSHA rules for safety reasons. According to these rules, grab bars must have at least a 4-inch clearance behind them, with a diameter equivalent to a ladder rung, and they must be positioned horizontally such that the rung spacing is maintained. Ladder falls claimed 241 lives in 2008 and 2009, according to the US Department of Labor Bureau of Labor Statistics.
Extensions to the railings Fixed ladders may be bolted or welded to horizontal grab bars. For access to roofs and rooftop hatches, grab bars may be attached to the kerb.