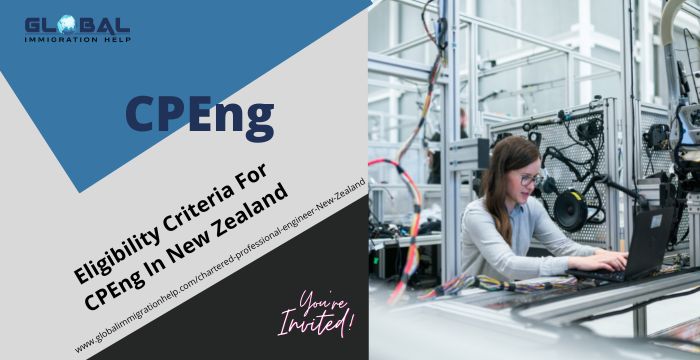 New Zealand is a developed country and provides countless opportunities for engineers. Therefore, there is a zeal thriving among engineers across the world to be registered as a CPEng in New Zealand.
It is because attaining this status will bring with it countless benefits. So, if you are one of those engineers who dream of New Zealand immigration as a CPEng, read this blog.
Here, we will tell you about its benefits and the eligibility criteria you need to meet for this. In addition, we will tell you about the other way to get Chartered in New Zealand. So, reading this whole blog is a must-do for you.
Top 3 benefits of being a CPEng:
The following are the top 3 benefits of attaining Chartership via registration:
High standard:
Have recognition as an industry leader with a post-nominal showing your high level of engineering knowledge. This recognition will bring you countless new career opportunities. Everybody will consider you a credible engineer. This post-nominal will be evidence that you value professionalism, ethics, and continual learning.
More opportunities worldwide:
Mutual recognition of your engineering capability will help you find work overseas like a walk in the park. In simple words, attaining Chartership is proof of your meeting internationally-benchmarked standards. Thus, the whole world will give you a warm welcome with open arms.
More attention and respect than others:
Being a Chartered Professional Engineer will give momentum to engineering career growth. Many employers and authorities need engineers with Chartership to sign off certain work. This status assures them that you are a competent and one of the top-class engineers.
Eligibility criteria you need to fulfill to become a CPEng:
All engineers are eligible for this status, and the same assessment applies to all. The registration authority provides different categories for technologists, professionals, technicians, or geologists.
Professional Engineer:
Complicated engineering issues and activities
Washington Accord (4-year BE) or equivalence
Chartered Member
CPEng
IntPE(NZ)/APEC Engineer
Engineering Technologist:
Widely-defined engineering issues and activities
Sydney Accord (3-year BEngTech) or equivalence
IntET(NZ)
Chartered Member (Eng. Technologist)
Engineering Technician:
Well-defined engineering issues and activities
Dublin Accord (2-year NZDE) or equivalence
Chartered Member (Eng. Technician)
IntETn(NZ)
Engineering Geologist:
Complex engineering geological issues and activities
Recognized postgraduate qualification in Engineering Geology
Chartered Member (PEngGeol)
What is mutual recognition?
You can directly apply for Chartered Membership if having an engineering registration. This registration must be with a signatory to the Washington, Sydney, or Dublin Accord.
Knowledge assessment:
What if you don't have a Washington Accord-accredited qualification? In this case, you can show equivalent knowledge for entry into Professional Engineer (Chartered Membership or Chartered Professional Engineer). For that, you need to go through a knowledge assessment.
If not having a Sydney or Dublin Accord-accredited qualification, the authority will assess your equivalent knowledge. It will be as part of your Chartership assessment.
What are the two ways to become a CPEng in New Zealand?
There are two ways to attain Chartered status in New Zealand as an engineer. The first one is by Engineering New Zealand membership. On the other hand, the second one is using registration as a Chartered Professional Engineer (CPEng).
The Chartered Member class provides a general quality mark of professionalism. Apart from that, it also offers all the membership benefits. On the other hand, CPEng registration provides a mark of current competency. This competency is based on legislation. You can be both a CPEng and Chartered Member, or only one, up to your wish.
Difference between Chartered Membership and CPEng registration:
Chartered Member (CMEngNZ)
CPEng Registration
Quality mark of general competency and professionalism
Quality mark of current New Zealand-specific competency
Engineering New Zealand membership benefits
Independent of Engineering New Zealand and is governed by CPEng Act 2002
Evaluated once, with a yearly commitment to ongoing professional development and ethics
Re-evaluated at least every six years
Assesses general engineering competency to a globally-recognized standard
Evaluates general engineering competency to a globally-recognized standard with current New Zealand-specific competence
Basis of competency for international registers (IntPE, IntET, IntETn)
May be necessary

Dependent upon your employer or work type
CPEng assessment process:
Join the community:
If you are not a member yet, join the community and have access to its online member area. Thereafter, record all your work and CPD records that will help build your portfolio of evidence for your Chartership application.
In case of a desire to become a member, you will have to add your proof. Add it after completing your Chartership assessment to become a CPEng.
Create work and CPD records:
Begin to add work and CPD record right after joining so that you don't forget the details. Adding records as you go will make it quicker and less complicated to complete your application. Your work records offer your work history evidence and build a picture of the type of engineering activities you perform. The CPD records could include some formal education, conferences, workshop courses, Engineering New Zealand branch, or group activities. These records can also include mentoring or volunteering.
All these things give proof of your ongoing professional development. Besides that, they count towards Engineering New Zealand members' requirements for completing 40 hours of CPD each year.
Start your application:
When you have enough experience for Chartership, start your application. You have to:
Complete some details regarding you and the practice fields you want to be evaluated for, and upload a current resume
Supply two referees recommending you for Chartership
Show the way you fulfill the areas of competency
Link related work and CPD records as proof of your competency 
Submit your application:
After completing every section of the application, be ready to submit it to the authority. Its team will check that you have everything required in it before it goes for assessment with its assessors. As part of the evaluation, there will be an in-person session. For that, your evaluator may give you a task to know about your experience and knowledge. They will let you know whether you should get Chartership. After that, a Board will make a final decision.