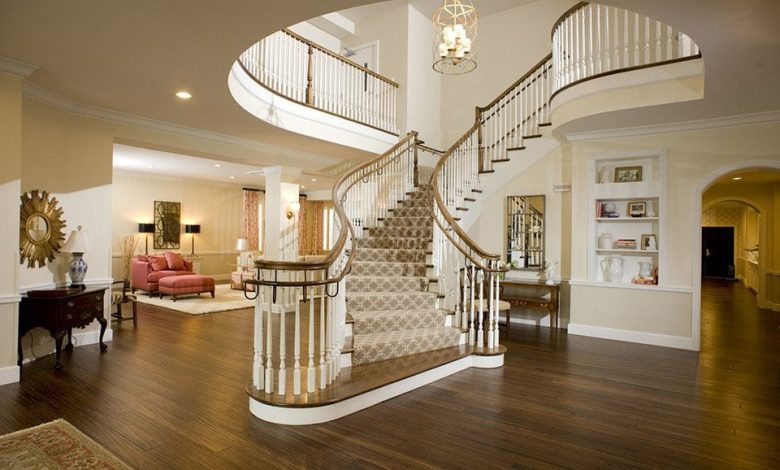 Curved stairs are usually in the entryway of a home. It creates an elegant and sweeping focal point that people design as per its surroundings. Many people might face challenges while decorating such stairs or staircases in their abode. The challenges take place, as it is hard to blend the conventional accent feature. You can get in touch with the representatives of an interior design company in Noida or your locality if you have to face challenges in embellishing your curved stairs. Before you move forward to join your hands with such an agency, you can have a look at the below-mentioned ideas. The ideas are as follows:
Paints the wall 
Almost every home has a wall or walls linked to the staircase. The walls support the stairs or staircase from the ground to the top floor of a home. In coating it with paint, you should match or complement the paint colour with the wall colour of the landing area. You can whitewash the entire staircase if you have whitewashed walls on all the floors or the landing area. For leaving good impacts or creating an eye-catchy look, you use bold colours to paint the walls connected to the stairs. 
Hang portraits of your family members 
Usually, the stairs from the ground to the top floor connect rooms on each floor and denote a member of your family living there. By hanging photos of the respective member, you can make it more visible to people who come to see you at your home. You can start decorating your stairs on the ground by hanging the photos of all your family members together. And for it, you can use a family tree photo frame. After the ground floor decoration with family portraits, you can hang a single photo of each of your family members in a row. You can keep hanging until you reach the top floor of your abode. 
Ornate your stairs with lights 
Usually, many of you ignore lighting your staircase properly. You should value its lighting if you are serious about the decoration of your curved stairs/staircase. Apart from general wall lights, you can go with hanging chandeliers from the ceiling on each floor connected with the staircase. Further, you can use wall sconces and recessed lights to decorate your curved staircase. These recessed lights and sconces are available in several shapes, styles, and sizes.  
Create a gallery 
Your staircase is the place in your home that you can use to showcase your home decoration and love for art. As per your choice and decoration theme, you can hang a few paintings on the walls connected to the staircase. The themes can be history, natural scenes, famous landmarks of the world, or animals. You can also hang paintings of your preferred personalities across the globe. 
Stick wallpapers 
You have numerous options when it comes to decorating the curved staircase. And using wallpapers is one of them. In the current world, wallpapers come in various shapes, sizes, styles, and themes. They are easy to stick and help you finish your staircase decoration on a weekend. And you will need no professional help. Select the right one and do your staircase decoration on a day of your wish. 
Conclusion 
The embellishment of curved stairs is a little tricky. You can do it well by following the ideas mentioned above. In addition, you can think of placing potted plants on steps, hanging murals, installing decorative plates, and placing carpets. However, you can hire an interior designer when you wish to have something different and unique in the decoration of your stairs.