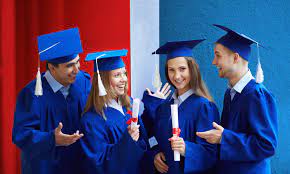 Study Higher Education in the UK
Nowadays, United Kingdom is becoming the most popular city for higher studies and also becoming a dream of everyone. Here I am aware you about some important facts about study MBA in the UK for Indian students. This blog is especially for Indian students because natives of UK know about UK's education, but Indian students are not aware with the facts and figures of study MBA in UK or any other higher education. All the masters' degree taken from UK is well recognized all over the world. Thus, if you choose to study in UK, then it will be a life changing decision of your.
Why to Choose Higher Education in UK for Indian Students?
With choosing higher education in the UK, you can pursue any part-time job to expand your practical knowledge. This knowledge can help you in grooming yourself and also it enhances your communication skills. Higher education from the UK can give you higher salary packages in employment. Also, you can use your UK degree in India to pursue your career. Almost every course is available in UK, whether it is bachelor's course or master's course.
Indian Students to Choose MBA in UK for Master's
With all the higher studies, MBA in the UK for Indian students is most popular and most chosen course by Indian students and native candidates of UK also.
MBA in UK is a one year course in the UK provided by the Universities. Due to its minimum duration, Indians prefer UK to study MBA.
Work experience required to pursue studies in the UK is minimum. Your work experience depends on the course you have chosen. But, generally, you required at least 2 years of work experience in particular field of Business management.
All your documents must match with the eligibility criteria required in the UK for study MBA. The basic requirements for study MBA in UK for Indian Students are:
GMAT score if mandatory in the University that you choose to take admission.
A required MBA essay for University to choose you for admission
All the documents related to your qualification.
At last, after approving your documents, they will conduct a face to face interview.
Cost of study and living in the UK is pocket-friendly.
In any case, if you are not strong financially, then you can take scholarships to pursue your education.
You will always have a career guidance team to guide you about your career.
Scholarships for Study MBA in the UK
Below listed are some scholarships available to apply for study MBA in the UK.
Chevening Scholarships
Commonwealth Masters Scholarships
Commonwealth Fellowship Plan
GREAT scholarships
The Global Study Awards
Charles Wallace India Trust Scholarships
So, the above mentioned reasons will help you to choose MBA in the UK for Indian students. If you need help of a career consultancy then, consult to overseas education consultants for free.
Also, If you start your career with management then you must read How BBA provides the Best Start to your Management Career?