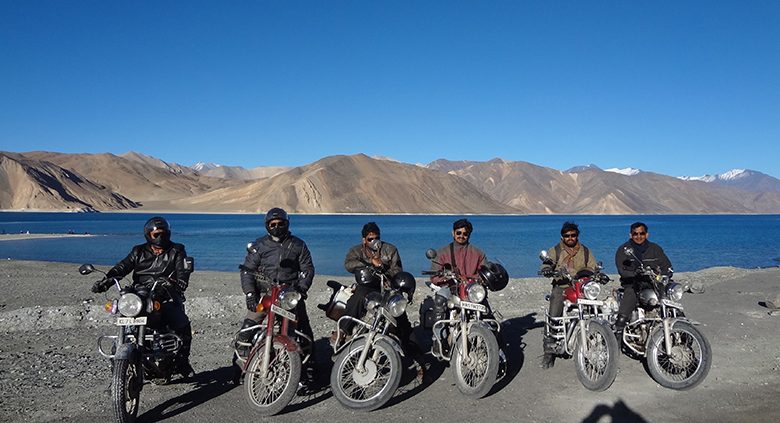 Overview
With a renowned Shikara ride and the opportunity to stay in a unique houseboat, explore Srinagar's 'Heaven on Earth.' Outdoor professionals handpick a great mix of risky, exciting, and cultural activities. Pangong Lake is the world's tallest saltwater lake, with a variety of colors ranging from blue to green to scarlet. You'll be driving across some of the world's highest motorable passes. Allow the adrenaline to rush through your veins. Experience the Himalayan region in the utmost safety and elegance in well-sanitized lodgings and automobiles.
From June to September, the weather is great for a bike trip across Leh-Ladakh. Most riders, on the other hand, want to start the new year off right with this thrilling bike trip because Ladakh offers breathtaking views that can be experienced all year save during the monsoon season.
A Leh Ladakh bike tour should last at least 15 days, depending on a variety of factors such as the route you took, your entire itinerary, and, most crucially, the weather conditions.
The cost of a trip to Leh and Ladakh
First and foremost, you must establish a financial budget. The cost of hotel, meals, and fuel can all be incorporated into a typical budget. As a result, in usual circumstances, a 15-day bike tour to Leh Ladakh trip cost roughly INR 35,000. The price of your bike tour can vary depending on the route you choose. Permits and other fees for the LehLadakh cycling trip are also included in the price.
Best Leh Ladakh Bike Tour Route
The two primary routes that offer better road conditions and picturesque vistas when utilizing Delhi as a base for a LehLadakh bike journey are Srinagar to Leh and Manali to Leh. The Manali to LehLadakh bike ride route circumnavigates the steep Himalayan region, providing better views while also increasing the amount of effort and danger.
Srinagar-Leh is the first route.
Manali-Leh is the second route.
Leh-Delhi is the third route
Accommodation
On a double-sharing basis, there are several inexpensive hotels in LehLadakh. One can get easy accommodation options for INR 500 to INR 2,500 per person, including taxes.
Details 
As a result, depending on whether you want a cheap hotel or a luxury hotel, an average stay with the best amenities, comfort, and reviews might cost you anywhere between INR 500 and INR 2,500 per night per person. A 15-day vacation will cost roughly INR 7,500 in terms of lodging if you keep the lower limit in mind. Rates may fluctuate due to changes in services or accommodations. The client is responsible for the difference in cost if the package is changed before the trip begins due to an increase in the number of passengers, a hotel change, etc. The availability of the hotels is subject to change. The tourists will be accommodated in a similar facility if they are not available. Non-air-conditioned and non-heated vehicles will be used throughout the journey. Always dress appropriately for the weather when traveling.
Things to Remember
It is believed that rules are meant to be broken, and while some of you may have the feeling that "your life, your rules," it is not recommended to embark on a bike trip with a negative attitude.
Disobeying the rules on one of the world's most dangerous and highest motorable roads can be fatal. As a result, for your own sake and safety, follow the rules and do so wisely.

If you're traveling from Manali to Leh, it's a good idea to bring extra jars of gas in addition to full tanks. Because  there are only two petrol stations along the way. On the contrary, there are numerous petrol stations along the route from Srinagar to Leh.

 

It's a good idea to learn how to change a bicycle tyre in case your bike develops a puncture. During the rest of the time, several mechanics can be found along both roads.

Bring any necessary medications with you in case you, your partner, or your traveling companions suffer from altitude sickness.

 

It's worth noting that Airtel, BSNL, and Aircel are the only operators with service in Leh. Riders who do not have these connections have no choice but to wait in long lines at overcrowded STD booths or to get a connection from one of the above-mentioned operators.

Though Leh has several ATMs, bring enough cash with you. The only ATM on the Manali to Leh route is in Keylong.

 

Obtaining an Inner Line Permit costs only INR 200 and allows you to travel to remote locations such as Tso Moriri, Chushul, Merak, Loma, Mahe, Hanle, and others. From 9 a.m. to 3 p.m., one can apply for and receive this permit at the Deputy Commissioner's office in Leh.