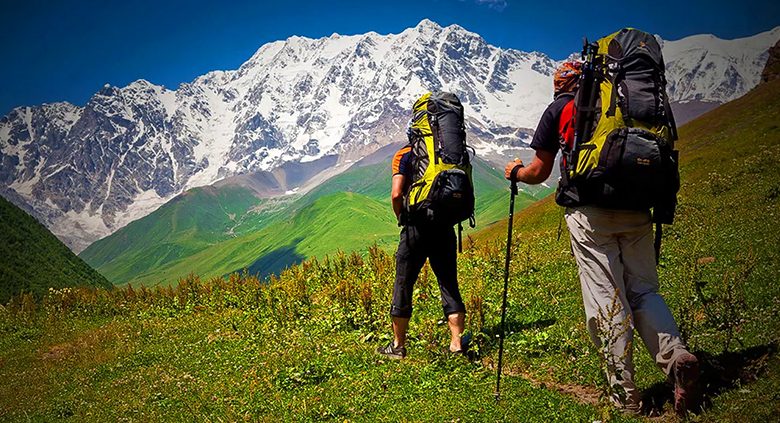 Introduction:
Friendship peak can be found within the Pir Panjal range and is situated at 5,289m in the Himalayan region. This is a challenging hike. It is among the most well-known treks in the Himalayan region. This summit is located in the Beas Kund region. 
You can see glaciers, lush vegetation, trails that are full of stones and boulders, and enjoy stunning views of snow-covered peaks. These treks are all from Manali. It is necessary to travel 24 km. The ideal route to take would be Dhundi as well as Beas Kund. 
There is no need for advanced trekking abilities, however you must have physical and mental strength. It is recommended that trekkers have previous experience with high altitude trekking to be able to complete this trek. The trail is strenuous. It is also possible to train yourself before undertaking this trek. 
A three-kilometre run every day can be extremely beneficial when walking in this region. It is also possible to do stretching, warm-up exercises as well. The attractions of this trek include the ancient Hadimba temple, and 5,289m trek, the Solang valley. Along the trek you will see stunning wildflowers, flora and fauna.The small streams will surely blow your mind.
Some Information:
Location: Himachal Pradesh, Kullu
Total Days The total days are 8 to 9 days.
Airport: Kullu-Manali airport.
Railway Station: Joginder Nagar Railway station.
The best time to go: Mid of June until the middle of October.
Altitude:5,289 metres.
Friendship Peak is popular for: High altitude glaciers, camping.
Best Time:
The trek can be done during the months that falls in the month of June( middle) until October(middle). In June through July, the temperature in the evening and night could fall to -2 degrees to 5 degrees celsius. In the afternoon, the temperature is around 13-20 degrees celsius.
From September to October, the temperature in the period of evening and night can fall from between -5 and 4 degrees Celsius. In the afternoon, the temperature can be anywhere from 12 to 19 degrees Celsius.
The region gets a lot of rain therefore it is advised not to plan your hike during July. This region also has land slides during monsoons. Make sure to plan this hike in the monsoon post-monsoon period.
Trekking Itinerary:
Day 1
Today, you have to arrive in manali. You can get here via plane. The closest airport to Manali is Bhuntar airport. The airport is located on National Highway 3. Manali is also connected to the major cities of India. From Delhi you can connect to NH 22. 
Distance from Delhi and Manali is 570 km. There are many buses such as deluxe, semi-deluxe, and deluxe along this route. This means that one can easily purchase tickets for buses that will take you to Manali. There is no direct train to Manali. At Joginder Nagar railway station you can hire a taxi. Distance from Jogindar Nagar railway to Manali is 175 kilometres.
Day 2
On this day , you will need to travel between Manali towards Dhundi. The trek route passes through the gorgeous Deodar forest, as well as a few small bush. The trekkers must head to "Lady Leg" base camp "Lady Leg" base camp.
 From here, you can go on a tour of Deo Tibba, Hanuman Tibbaa Seven sisters, various Pir Panjal ranges, and Shetidhar. Stay at the base camp of the incredible Lady Leg.
You could also begin the trek from Solang. If you choose to do this, you must stay in Bakarthach. Bakathach is located at 3050 m.
Day 3
After having breakfast, you must trek to an Advanced Basecamp. From here, you can explore the open areas and glaciers. Advanced Base Camp is located at 4815m.
Day 4
If you'd like to view the breathtaking sunrise from the summit's col on this day, then you have to rise earlier in the day. The Friendship Peak summit can be a strenuous day hike. Seven to eight hours of hiking will bring you to the summit of friendship.
 After reaching your destination, enjoy your victory. Photograph your journey and go back to your place before lunchtime. The trek is well-known for its high altitude treks, glaciers and camping.
After you have completed the summit, you must return to the base camp that is more advanced.
Day 5
Begin to trek downhill following the splendor of the Friendship peak.Trek down until you arrive Dhundi. Dhundi.After which you have to return to Manali.
There is also the option of driving down to Bakarthach. From there, you must return to Manali.
Things To Carry:
Valid ID card (Aadhaar, Voter, passport driving license, etc.).

Trekking shoe, trekking Pole

Two t-shirts with quick drying properties.

Trek Pants, pair of Socks.

Basic First Aid and Medicines kit.

Cap/hat/scarf.

Gloves, Sunglasses.

Camera phone power bank, additional batteries.

Water Bottle.

Lip balm, sunscreen, moisturiser.