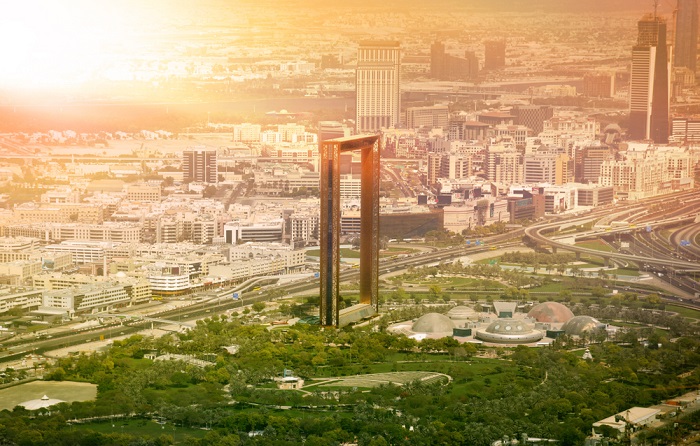 You know about the Burj Khalifa, the world's highest structure, which provides a 360-degree perspective of Dubai. There is Burj Al Arab, a towering luxury hotel with the most incredible views of Dubai's scenic coastlines and artificial islands. However, have you heard of the Dubai Frame and what it offers?
Dubai Frame emerged in the city's center, providing a panoramic view of Old and New Dubai—the finest of both worlds. It has a one-of-a-kind and cutting-edge structure designed by internationally recognized architects and engineers. Consequently, it is the city's sole attraction capable of providing tourists and residents with a perspective of the old, current, and future.
Enter Dubai Frame building to go to any of the city's timeframes! So, let the expert tour operators curate your Dubai tour packages and make necessary arrangements like Dubai frame tickets and other things to make your trip memorable. 
Let's learn about all the things Dubai Frame has to offer. 
What exactly is the Dubai Frame?
Dubai Frame is its kind of architectural giant photo frame in Zabeel Park. The park was built in 2013 but did not open until 2018. Dubai Frame, designed like a photo frame, flawlessly "frames" breathtaking vistas of Old and New Dubai. 
Furthermore, the structure is more than a gigantic photo frame. Moreover, it also serves as a viewing platform due to the presence of glass panels. The building's total construction is composed of glass, aluminum, and steel. The Dubai frame height is around 150 meters tall and provides visitors with a birds-eye view of the city, and it presently retains the world record for the enormous Frame.
Who Is Eligible to Enter the Dubai Frame?
There are no entrance constraints at Dubai Frame for residents or tourists. On the other hand, Pets are not welcome, and baby carriers are also advised for parents or guardians with newborns and toddlers. Within the facility, strollers and bulky baggage are not permissible.
People of determination and children below the age of three and determined individuals are admitted free to the observation tower with Dubai frame tickets. Further, it's worth mentioning that all public places within Dubai Frame are child- and wheelchair-friendly.
Safety & Regulations
Dubai Frame is a safe observation deck despite its height and unusual design. It provides a unique aerial perspective of the busy metropolis and similar professional-grade security for personnel and guests. Security personnel and technology deployment is present throughout the building. Additionally, they have processes and technologies to prevent or mitigate disasters like fire, tropical storms, and earthquakes.
The structure follows COVID-19 protocols throughout the insides. Furthermore, visitors must also adhere to the guidelines. 
The Best Time To Visit The Dubai Frame
Dubai Frame is open every day from 9:00 a.m. to 9:00 p.m. The advantage of this destination is that it is accessible throughout the year, even on weekends and federal holidays. The timeline may alter, however, on national holidays and during Ramadan. You can easily switch your timeline and itinerary to coincide with the Dubai Frame. 
Further, the greatest time to visit Dubai Frame and take in the views from its viewing deck is at 5:00 p.m.—to witness the sunset and take over both parts of Dubai, old and new.
How Much Time Should You Spend in Dubai Frame?
Spend at least an hour or two exploring the Dubai Frame. However, depending on the Dubai Frame schedule, you may prolong your stay by up to two hours to tour all establishment parts. Apart from the viewing deck, there is a gallery with multimedia installations, a souvenir store, and more attractions.
How To Get The Dubai Frame Ticket?
Dubai Frame tickets are on-site via the attraction's official website. You can hold your booking by spending with Visa or Mastercard-accredited credit or debit cards. The following details are of the Dubai Frame ticket price breakup:
Adults – AED 50 (13.61 USD)
Children aged 3 to 12 – 20 AED (5.45 USD)
Companions of people with determination receive complimentary tickets as well. There would be a max of two complimentary tickets issued.
Some Information About The Structure
Begin your exciting tour through the Dubai frame by walking to the mezzanine level, which has a gallery and a museum. You may view interactive displays depicting Dubai's evolution from a pearl digging and nomadic Bedouin fishing place to today's modern city.
Following the mezzanine level, go to the Sky Deck level for spectacular views of Dubai via augmented-reality displays. The sky deck is planned with magnificent architecture and has a glass panel and crack-proof walk-over that transforms into a clear glass when walked on.

From the Sky deck elevation, continue through the Vortex tunnel to discover Dubai's successful history.

Once you've had your fill of immersive experiences at the Vortex Tunnel, climb to the higher level of Dubai Frame to witness a glass foundation with a blue framework. 

The Frame's most stunning galleries are full of projections and multimedia depictions from the current age to the city's origins. Additionally, The Frame features a souvenir shop that sells cups, keychains, and commemorative frames.
What to Do In The Dubai Frame Inside?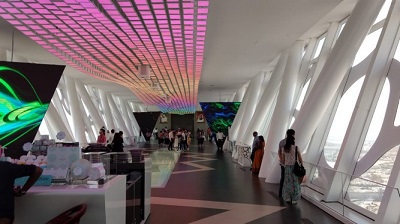 Dubai Frame is a 50-story structure of steel, glass, and aluminum, and every floor does have its range of operations and offers. The following are some of the top activities and sights inside Dubai Frame.
Make a Museum Visit
The museum offers audiovisual exhibits that chronicle Dubai's modernization—from a fishing hamlet to a bustling metropolis. It presents a tale via visual and sensory experiences, assisting foreign travelers in comprehending Dubai's culture and legacy.
Visit the Sky Deck for Sightseeing
Ascend to the Dubai Frame's Sky Deck level for an unrestricted spectacular view of Old and New Dubai. You can observe the city's stunning monuments and significant buildings from the summit. Therefore, snap a selfie, photograph the cityscape in landscape mode, or marvel at the scene.
Cross the Glass Bridge and Walk Through It
Enjoy a 75-second elevator journey to the observation deck to access Dubai Frame's glass bridge. Further, you may walk through the glass bridge and enjoy spectacular city views via the glass panels. You can easily observe that you are 150 meters above the ground.
Also Read – Top 9 Steps To Plan For Safe Solo Travel
Final Say
Dubai Frame is a must-visit tourism attraction. Simply by purchasing a ticket and entering the establishment, you may view the entirety of Dubai. It is advisable purchasing your Dubai Frame tickets in advance and plan your visit accordingly to avoid crowds and waits. The most sensible option is to prepare beforehand and come early.