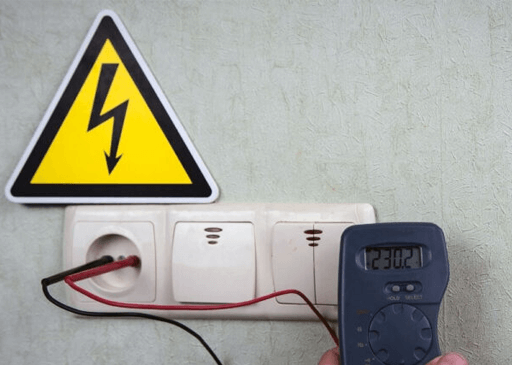 Examining the safety and security of any industrial unit's or organization's electrical installations is the goal of an Electrical safety audit services. Any entity installed with electrical equipment and appliances is subject to investigation, inspection, testing, and verification during an electrical safety audit. Electrical Safety Audits are carried out by qualified experts that help clients lower risk and guarantee adherence to applicable Safety Standards and Regulations.
Electrical Safety Audit's Purpose: 
An electrical safety audit examines the total electrical system's level of safety in the building and offers suggestions and actions to be made to reduce or eliminate the danger of electrical hazards. The precise scope is as follows:
Review of risk assessment and identification of electrical dangers.

Review of the lightning and earthing systems put in place in the plant to protect people and the machinery.

to use a thermal imager to inspect the hotspot in the electrical equipment and installation.

to do a sampling-based analysis of the earth resistance of earth pits and sockets.

Review of the facility's EPM (Electrical Preventive Maintenance) program.

Review of electrical papers such as data sheets for crucial electrical installations, registers of electrical installations, single line diagrams, test records (transformer oil test, insulation resistance test, and earth resistance test), and test records.

Review of the dependability and availability of backup power sources, such as batteries, UPSs, and DG sets. Physically inspect all electrical distribution panels, transformers, and switchgear for warning labels and signage.
An on-site inspection, data collection, examination, and analysis are all included in the Electrical Safety Audit along with reviewing the paperwork in relation to the audit's scope. Additionally, information and data that may include industry norms and peer data must be cross-check and verify. The process that EnKing International uses to conduct an electrical safety audit is detailed below:
Pre-Audit Consultation (opening meeting).

Inspection and on-site visit

discussion with house members.

Review of records and documentation

for final Electrical Safety Audit (ESA) report submission
Electrical safety audit benefits By identifying electrical dangers, incidents like fires caused by short circuits are reduce:
locating vulnerable or risky spots in the installed and existing electrical systems.

makes the workplace safer, which raises employee morale.

Premature failures are successfully reduce.

Unexpected power outages can be reduce while still supplying the end user with power.

helping to manage the electrical risk.

failure to follow regulations and industry standards.
The most essential aspect of our lives today, electricity nevertheless has significant risks that can seriously endanger people's lives and property. These electrical risks and hazards might manifest as shocks, short circuits, malfunctions, and electrical fires and explosions. Therefore, managing and controlling these electrical risks properly and efficiently is not only vital but also necessary at this time, especially in industries where these hazards will have a much greater impact and may result in more losses.
Electrical Safety Audits might be able to meet this need of spotting and removing any risks and mishaps. Adopting the electrical safety audit will help the facility develop a reliable safety system. If effectively implemented, it has a number of observable advantages and helps management create an emergency preparedness plan. Here are a few justifications for why businesses should do electrical safety audits. 
1) Finding problems with the current system:
An electrical safety audit will examine the current system in place and aid in pinpointing any flaws. The facility's current system may have defects, be out-of-date, or have redundant functions based on the requirements and standards in effect at the time. Therefore, identifying these shortcomings in the current electrical systems can assist the industry in avoiding further loss.
2) Identifying and removing safety hazards:
Understanding the various risks and hazards that electrical systems may present enables one to take the necessary preventative steps and mitigation measures. That is what an electrical safety audit performs. Knowing and recognizing potential risks helps you put an emergency preparedness plan in place before a disaster occurs.
3) Making sure that government safety laws and procedures are follow:
Electrical safety audits make sure that all the rules and regulations established by the government and other reputable institutions are adhere to and conform to industry standards. Therefore, these audits are a wonderful approach to be compliant with the law and assuring safety at the same time.
4) Making sure large and expensive electrical equipment lasts a long time:
The electrical machinery is damage and may have irreversible failures as a result of the disruptive and non-uniform voltage supply, electrical fire accidents, short circuits, and other electrical accidents. This will increase financial losses. An electrical safety audit can help you avoid damage since it eliminates and lowers the danger of these mishaps, protecting your expensive equipment. This will help you avoid unnecessary costs and ensure that your activities run without interruption.
5) Staff and official training for the secure use of machinery and facilities:
Any industry will benefit greatly from having highly-trained, well-equipped personnel that is knowledgeable with the facilities' facilities and systems as well as the proper operational practices. These safety audits make sure that everyone who is in charge of managing electrical safety and operating machinery is properly train and knowledgeable in these areas.
6) Steps and measures that must be perform to ensure electrical safety:
Half the effort has already been done by simply identifying the potential electrical hazards. You will be fully prepare for any electrical safety failure if you have a suitable strategy for the steps to be follow to eliminate the risk of risks and for mitigation if a hazard or accident occurs, and these electrical safety audits do just that.
An electrical safety audit will yield advantages that will assist the industry in the long run if it is implemented in its entirety. It will guarantee not only the safety of the machinery but also the lives of those who work there. The workers' and employees' morale and confidence in the sector and its methods also rise. Therefore, these electrical safety audits are your best bet for having an emergency preparedness plan and managing electrical safety. For the overall safety of the property and people from electrical risks and accidents.
At SAS Powertech, we strive hard to ensure your work environment is safer for the workers and the industry. We provide end-to-end Electrical safety audit services for your industry and home to help you establish a people-friendly environment.