Tech
Why Should You Hire an App Maintenance Company in 2022?
Hire an App Maintenance Company in 2022?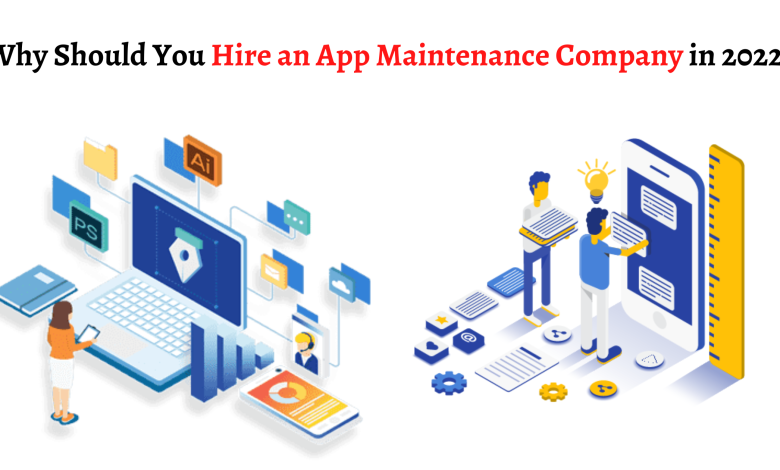 As the number of mobile users increases, the apps on the App Store and Play Store are growing day by day. So how do you ensure people choose your apps over competitors? 
Several factors ensure the app's success, including advanced features, interactive user interface, and more. However, the common thing you need to deliver in your app is seamless functioning to its users without any bugs.
Therefore, app maintenance is a crucial step in the app development lifecycle. 
Are you still thinking about whether app maintenance services are worth the shot? This blog will guide you on why updating the app is the right choice for maintenance and why you need to hire a company that provides this service. 
Why Do Mobile Apps Need Maintenance?
Updating Operating Systems
The technology you will use in your app needs upgrading with the latest features and security patches. Additionally, Mobile operating systems, iOS and Android, go through regular upgrades and release the latest versions. 
Therefore, it is necessary to cope with these upgrades to ensure your app features work smoothly. When you hire an app maintenance company, they will keep track of the latest updates and ensure your app supports the new OS version.
With technology changes and upgrades, there is a possibility your app might start facing errors and performance issues. In extreme cases, app performance can drop if you avoid removing those bugs from the app.
Also, the app maintenance company helps to enhance the app's user experience by ensuring it remains bug-free. 
Enhancing User Experience
For your app to be successful in the market, it is necessary to ensure a seamless and improved user experience. An enhanced user experience will help you establish long-term customer relations, draw positive customer feedback and reviews, increase user retention, and build customer loyalty. 
An app maintenance company ensures the smooth functioning of the app, which your users will appreciate. 
Keeping Up With App Trends
The app market is ever-changing, and thus, it becomes necessary to keep up with the trends. Your audience will well receive an app that has modern features. For instance, Facebook, Instagram, and Snapchat, all these prominent social media apps use Story features. 
Since the trends keep changing, you can hire mobile app developers to update app features as per the latest features. 
Secure Your Apps from Cyber Attacks
As the use and number of mobile apps are increasing, the risks of potential cyber-attacks are also rising. If your app is not updated with the latest security protocols, this can make your app vulnerable to cyber attacks. 
Therefore, you need to hire an app maintenance company to update and maintain your app regularly and find loopholes to remove any vulnerabilities.
Conclusion
We hope this blog helps you understand the importance of app maintenance services. You can hire an app maintenance company to help you fix all the bugs and issues and make your app feature-rich as per your audience's interests. 
Regular app updates and maintenance will help scalability and increase the app's lifespan. If you can satisfy your users with your app, your app will likely stay in the market for a long time. 
With mobile apps, there are endless opportunities to interact with your audience. Therefore, keep them entertained and secure unique features and upgrades.