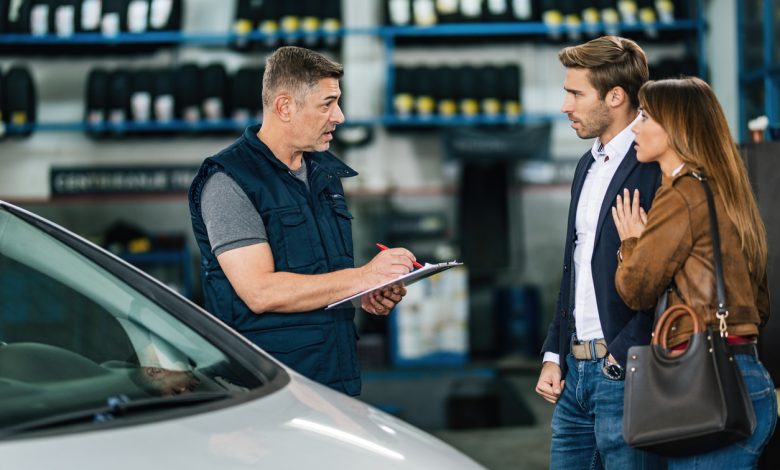 We can see that businesses, particularly repair businesses, are moving to digital solutions such as auto repair software in the modern era of technology. This allows for a better workflow. Many traditional ways of managing a business have been redesigned to be more efficient and productive. 
These businesses are all about perfection, and they continue to find new ways to achieve perfection. It seems absurd, right? It is possible, thanks to modern technology.
Some workshops still use archaic cash registers and paperwork.
Unfortunately, these workshops don't reach their full potential. They are trying to save money and consider this modern approach a luxury, rather than a necessity. This method of working has been essential to every workshop's survival in this age.
Technology's operational value is what makes this industry the most successful. This is the most remarkable thing about it. It is not complex technology, but one piece of software called auto repair invoicing software.
You may now be wondering, "How does this software make things easier and more convenient for your workshop?" Keep reading to find out.
Part Restocking as Easy as 1 2 3!
Do you remember those days when we had to have a whole team of manual laborers to do the restocking? To ensure we had the correct stock, we needed extra people.
Our staff also had to be able to verify that every stock part was correct. This task required a lot of focus and precise data. Any variation in the data from its original value will cause confusion in your inventory structure.
This can also cause major financial problems. Depending on the mistakes of your technician, you may either overbuy or underbuy stock. It can also delay the delivery of services requested by customers.
If the customer does not get what he asked for, he may leave your workshop and never return. The software can come to your rescue in such cases.
The software records every part of your inventory. Each part has a number that is called the "trigger number." A message alert is sent whenever a repair part reaches its trigger point. The alert is sent to the person responsible, indicating that the part should be restocked.
This is not all. Software can help you order parts and restock. Software contacts the vendor that has the part you need to be replenished. This program authorizes delivery in advance to avoid any delays. This allows you to provide perfect service times for your customer.
It is important to keep a log of all parts used in customer support. This can prevent theft and misplacement of parts from your inventory. These actions can help you avoid a lot of financial trouble.
Digital Invoicing Saves You a Lot of Time
Anybody who works in an invoice department for any service company will tell you how difficult it can be to manage your time. This can sometimes prove impossible for some employees.
This is because this task requires a lot of your mental ability and focus. Invoice creation is not an easy task. Any error could cause financial records to be impacted and your total revenue to be affected. This can be frustrating.
You can also lose a lot of revenue. You will also need to use a lot more of your workspace. You have many paper catalogs that you need to fill, and you must enter data.
It can be difficult to find a specific record because there is so much data that needs to be sorted out every day. There are also too many papers in the log. They may also need lots of storage space. It also saves time.
It is important to ensure that all data and records are correct and complete. It is also time-consuming to fill out catalogs in the right format for your workshop.
These tasks can be completed using the manual approach. Were we not referring to a technological approach here? We were. So, we'll bring back the software! This software features state-of-the-art functionality. This feature makes it easy to complete all of your invoicing tasks.
You can also recall specific records at any time using the program. Each record that is saved contains specific details. Any of these details can be entered and the record will appear on your screen, regardless of how old it may be. It saves you a lot of time. In just a few clicks, it can finish your invoice tasks.
Take Your Auto Repair Business To the Next Level Using Auto Repair Estimating Software
Are you looking for the best auto repair estimating software? You can stop searching right now. You've reached your destination. We offer a system that is specifically designed for the automotive industry.
Software that automates auto repair can help you manage all aspects of your company. This includes recording customer data, scheduling appointments to check inventory, and invoicing.
Auto repair management software and invoicing software stores information in a structured database. You can quickly retrieve custom reports. It can also make accurate decisions about everything, from sales and marketing to service and repair. These features will allow 樂威壯
you to work faster and smarter than ever before!
How the Auto Repair Invoice Software Changes Everything
Some people may find the functions discussed in the auto invoice software less important than others. It can make a huge difference in the way your workshop transitions.
These technological advances are the key to success in auto repair. They have realized that human effort is limited. They need the best technological tools in order to surpass that limit.
This software can help with booking, invoicing, and restocking. This software can also be used to provide excellent customer service, employee evaluations, and feedback. You can complete all of these tasks in just a few clicks.
Summing It Up
Auto repair shop software is a great solution to automate a lot of mundane tasks in your auto repair shop. Are you looking for a robust auto repair software? Here are a few features every such software should have!