Tech
iOS App Development: A growing opportunity
The rising growth of iOS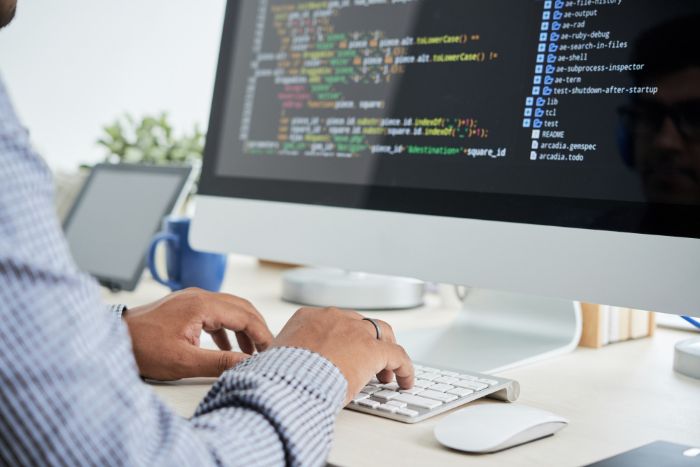 Apple's masterpiece creation, the iPhone has overtaken Android devices to account for more than half of all smartphones used in the United States. The craze of having an iPhone and especially having the latest model is something that everyone is familiar with. The luxury aspect of Apple products also greatly contributes to the overall rising growth of both Apple and iOS. Overall, Apple and iOS app development is seen growing year by year, achieving new milestones as it achieves new heights of success.
Top reasons to choose iOS platforms
One frequently arising question that rises often is whether one should choose Android or iOS app development. iOS and Android are widely used platforms, used for building mobile apps. When we consider the current demand for both iOS and Android, one shall pick iOS and then consider android. I have listed down some of the major reasons to choose the iOS platform that can help you and your business in relating the requirements with the platform that shall be chosen.
Most iOS app development companies build apps for Apple users first and then think about their Android user base. For most apps, this trend is observed where the app gets released first to apple users. There are some apps that exist in the apple store but not in the android play store.
Reaching Out to Users
Apple devices are more commonly used in affluent parts of the world. A large community of people who use iPhones can mostly afford and use innovative apps to fulfil their needs. iPhone app development is accompanied by iPhone apps for higher revenue. Along with the possibility of generating higher revenues, iOS apps usually see a higher number of active users with higher adoption rates.
User Experience
Applications that are custom developed for iPhone users can provide an incomparable user experience. iOS never fails to provide a unique UI/UX environment that attracts users and developers. Apple IOS provides superlative quality UI and UX that always comes on the top. Likewise, every iPhone app that comes out, comes with a unique user interface and functionalities that reach out to more users who love trying new apps.
Secure Marketplace
The platforms built by Apple tend to be more organized. They have secure marketplaces with rules and methods to control quality. Apple's practices provide a stable environment for its iOS developers, which results in reliability among the app users. Apple restricts bad or suspicious apps from being deployed on the app store.
App Purchases
The iOS app platform allows raising some funds through the in-app purchase feature. The main intention of developing an app is to reach out to a wide range of users or target audiences and sell the app and services. Apple has many users who are willing to pay for the app and who would purchase and explore the app.
Overall Compatibility
Android OS supports many devices whereas IOS is unique. IOS is a close source and cannot be altered. Apple controls the core software and upgrades the functionalities in every version of the release.  This is advantageous for app development companies because the focus can be on developing the app and not worrying about making it compatible with multiple devices.
Advantages of iPhone Application Development for Your Business
Application development for iPhone brings a lot many advantages with it. Although it can be a costly investment, but it surely guarantees great results as the target audience is well-off financially and doesn't mind spending money on iOS apps. The following are 11 benefits of iPhone application development for your business.
Apps Generate Better Revenue
Safety & Security of Data
High-Quality Standards
Apps Can Cover All Business Needs
Established Customer Bases
Exemplary User Experiences
Tech-Ready & Tech-Demanding Users
Low Fragmentation with Ease of Testing
Highly Developed & Established Markets
Less Development Time Overall
Easy To Use & Enjoyable Interface
Conclusion
The fact would remain that app growth and revenue will solely depend on the output and features the app can produce for the users. The iOS app development process is recommended more for start-ups and small businesses because it provides the much-needed high-level user experience and more exposure. iPhone apps are seen to be the first choice for start-ups, and they definitely never compromise on or neglect iOS app development.
We have offered discrete iOS application development services to our clients that have added to the overall growth of their business.
You can hire our iOS developers to build modern, intuitive & optimized iOS apps with exceptional user experience and user interfaces.
Altogether we provide top-rated iOS app development services. Our company offers a complete range of iOS app development services. These services help your business develop custom native iOS apps and hybrid iOS apps. Hire our iOS app developers for your next iOS development project.
Read more: Top Four Security Trends in 2022